Sailun bond issuance application approved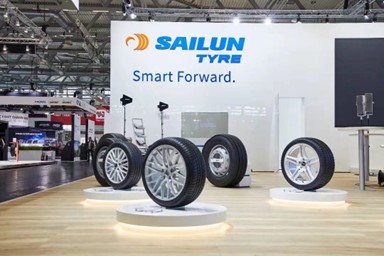 The China Securities Regulatory Commission reviewed and approved Sailun's convertible bond public issuance application on 13 September. The tyre company plans to raise about 2 billion yuan (about 250.2 million pounds, 286.3 million euros), mainly for constructing two factories in Vietnam and Cambodia. Sailun said that investing in two overseas factories could further expand its tyre production capacity overseas and increase its manufacturing scale and market share.
Of the 2 billion yuan raised this time, 600 million yuan (about 75.1 million pounds, 85.9 million euros) will be used for the Cambodia tyre factory to purchase equipment for the project with an annual output of 9 million sets of semi-steel radial tyres. The Cambodia project started construction in March 2021. In June 2021, Sailun decided to increase the annual production capacity of this project from the initial 5 million sets of tyres to 9 million tyres.
The rest of the funds will be used for the third phase of the Vietnam plant, involving production lines with an annual output of 3 million sets of semi-steel radial tyres, 1 million sets of all-steel radial tyres and 50,000 tons of OTR tyres. Sailun said that the funds raised for the Vietnam project would be used for capital expenditures. The start date of this project was also March 2021, and the estimated construction period is 36 months. It is worth noting that Sailun said that due to factors such as the epidemic and market demand, they would speed up the construction of the Vietnam project and complete the task ahead of schedule.
The data shows that from January to June 2022, the existing production capacity of Sailun's Vietnam plant has been fully released, and the capacity utilisation rates of all-steel tyres and semi-steel tyres is 90.54 per cent and 76.92 per cent respectively. During the same period, in Sailun's joint venture factory ACTR in Vietnam, the capacity utilisation rate of all-steel tyres reached 100.64 per cent.