Bridgestone further expanding Bahia tyre plant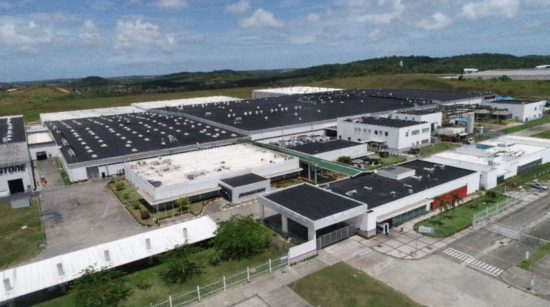 Through its local subsidiary Bridgestone Do Brasil Industria e Comercio Ltda, Bridgestone Corporation is once again increasing production capacity at the Bahia passenger car and light truck tyre plant in Brazil. Earlier today, the company said it would invest approximately BRL 270 million (£45.4 million) in this project; when combined with the capacity investment announced in July 2021, total investment in boosting Bahia plant capacity amounts to approximately BRL 970 million (£163.2 million).
Vicente Marino, president of Bridgestone Latin America South, attended an official ceremony alongside Rui Costa, governor of the State of Bahia and his team. "This investment is part of our strategic plan for sustainable growth in Brazil, focused on the premium tyre market and the production of tyres for more sustainable and electric/hybrid vehicles, which reinforces our commitment and the country's strategic position for the company's global business," said Vicente. "This expansion is also a major capability play for Bridgestone, as we look to delivery on sustainable solutions journey with products that will be incorporated with digital readiness."
5 million tyres a year
Work on this latest capacity expansion should start by the first quarter of 2024. By the end of that year production capacity – currently 3.5 million tyres a year – should reach 5 million tyres per annum. This second phase of expansion and modernisation of the Bahia plant will generate 126 new permanent jobs. Tyre production will increase through the implementation of new manufacturing technologies and the growing application of industry 4.0 concepts, including artificial intelligence control technology that increases productivity and the application of knowledge and data in a digital manufacturing environment.
The Bridgestone plant in Bahia opened in 2006 and currently employs more than 1,300 people. It produces original equipment and aftermarket tyres for passenger vehicles, vans and pick-up trucks, serving both the local and export markets. Between 2006 and 2020, Bridgestone invested nearly R$1.5 billion (£249.9 million) in expanding the facility's production structure.
Expanding capacity in Bahia will satisfy growing demand for larger rim diameter tyres in the Americas region. The project also supports the increased use of Bridgestone's Enliten technology.
Aiming for 95% local consumption
Bridgestone Brazil operates another tyre factory in Santo André, near São Paulo, and two Bandag retread factories, located in Campinas, São Paulo State, and Mafra, Santa Catarina. The company aims to build a global production footprint in which its tyres are produced locally for local consumption. Currently, around 90 per cent of the tyres it sells in the Americas are made locally, but the aim through this expansion is to increase the local consumption rate to 95 per cent.