Reduced lead times: YOHT's newest plant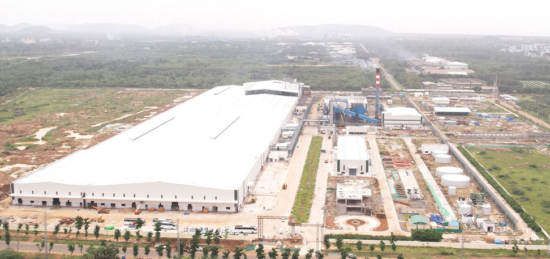 As reported on Tuesday, Yokohama Off-Highway Tires (YOHT) has opened its third factory in India. Yokohama Rubber has shared some additional details about the new plant in Visakhapatnam, Andhra Pradesh, which alongside existing facilities in Dahej, Gujarat and Tirunelveli, Tamil Nadu will produce YOHT's core Alliance, Galaxy and Primex off-highway tyre brands.
Announcing that it has commenced operations ahead of schedule at the 390,000 square metre plant, Yokohama Rubber reports that operations begin at a daily capacity of 69 tonnes of rubber, around a quarter more than the capacity stated when the project broke ground in 2020. Construction work now begins on the factory's second stage, and Yokohama expects this will enter operation in the first quarter of 2024, increasing the plant's capacity to 132 tonnes of rubber per day – again higher than the previously announced figure. According to Yokohama Rubber, further expansion of the plant's capacity is also "under consideration."
The Visakhapatnam plant is a welcome addition to YOHT's manufacturing footprint as sales of Alliance, Galaxy and Primex tyres have been expanding faster than the overall off-highway tyre market these past few years. The factory was originally expected to begin making tyres in the first quarter of 2023, but Yokohama Rubber brought forward the start of production to enable YOHT to "respond more quickly to expanding global demand for OHT tyres." Additional measures to boost capacity include an upgrading of the Dahej plant that resulted in a 1.6-fold increase in production capacity there.
Serving global customer base
The opening ceremony in Visakhapatnam on 16 August was attended by Jagan Mohan Reddy, Chief Minister of Andhra Pradesh state, Masayuki Taga, Consul General of Japan in India, and Nitin Mantri, chief executive officer of YOHT.
Greeting guests at the ceremony, Nitri said: "We are very excited with this best-in-class facility that will set a new benchmark for quality and productivity in the OHT segment. With our increased capacity we will reduce our lead times to better serve our global customer base."