Bridgestone 1H 2022 sales up 24.9%, but full-year EPS revised down on uncertainties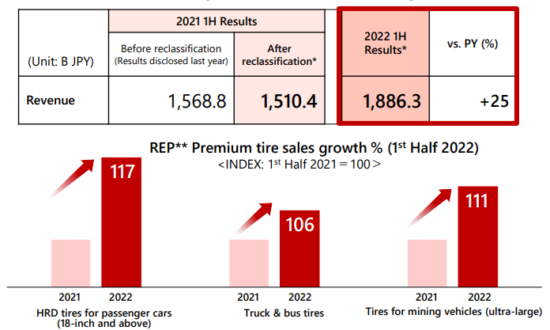 Bridgestone sales revenues shot up 24.9 per cent to 1,886 billion yen (£11.632 billion; 13.764 billion euros) in the first half of 2022. However, Bridgestone's continuing operations figures also show that operating profit dropped 1.4 per cent to 173 billion yen, resulting in 117 billion yen of profit attributable to owners (down 10.5 per cent compared with the same period in 2022). As a result, Bridgestone revised up its full-year revenue forecasts, but revised down its comparable full-year earnings per share estimates by 10 per cent from 397.58 yen per share to 357.93 yen per share.
The reason for the best-of-times/worst-of-times figures is that the group faced "management risks one after the other that were a strong headwind against…global tyre sales". According to executives, these included "suspension of domestic production in Russia and tyre exports to Russia due to the Russia-Ukraine situation, the significant drop in sales in China due to lockdowns in that country, and the temporary stoppage of operations at affiliated production sites due to an external cyberattack at a subsidiary in the US."
Bridgestone responded to those market headwinds by activating a "price management" and "premium business strategy" in each region. Moreover, Bridgestone implemented a programme of "expense and cost structure reformation" such as improvement of manufacturing and its global procurement project in order to "ensure profitability".
However, the result – as we have seen – was that sales were up, but profit attributable to owners was lower than expected. This, company representatives said, was "a result of recording impairment losses for the Russian business assets and expenses related to safety inspections at the Group subsidiary Bridgestone Cycle Corporation" as well as "increased losses related to discontinued operations…".
Moving forward, from the third quarter onward, executives expect the unpredictable business environment to continue, including various risks such as the Russia-Ukraine situation becoming prolonged and further acceleration in inflation. And that's why Bridgestone executives have revised down profitability projections while also upgrading Bridgestone's sales estimates (see table).