TyreSafe Awards 2022: Bridgestone named manufacturer of the year, Stone Tyres scores hat-trick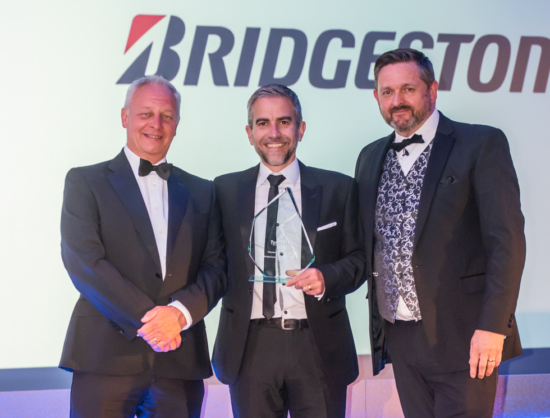 Following the return of the in-person day conference on 7 July, TyreSafe announced the winners of the 2022 TyreSafe Awards during the evening's awards dinner. The awards are TyreSafe's leading event of the year and highlight "the outstanding work that goes on across the UK to educate the driving public about tyre safety". After a two-year hiatus, TyreSafe representatives say they were "delighted to once again be able to unite leading names in road safety and tyre safety champions, to celebrate the achievements of our award nominees".
And the winners are:
Manufacturer of the Year
Bridgestone Europe (UK office) – Winner
Ford of Britain and Ireland – Highly Commended
In naming Bridgestone as manufacturer of the year, TyreSafe recognised eight newly-implemented safety initiatives over the past 12 months, including new products, online tyre safety e-books and a "significant investment" in technician training.
Bridgestone's consumer sales director Brett Emerson said: "Winning this TyreSafe Tyre Manufacturer of the Year award validates a great amount of hard work across the business.
"We're thrilled to have been recognised in this way and we look forward to building on our achievements with more tyre safety advances in the future.
"Tyre safety and keeping roads as safe possible – by serving society with superior quality – is at the heart of what we strive to achieve as a company. A huge amount of work goes into this each day, so to gain this accolade is testament to a lot of hard work to a brilliant team."
Safety in the Community
Micheldever Tyre Services – Winner
Online & social media
Protyre – Winner Large Organisation
Stone Tyres – Winner Independent Retailer
Elite Garages – Highly commended
Retailer
Protyre – Winner Large Retailer
Stone Tyres – Winner Independent Retailer
Outstanding Contribution to Tyre Safety
Lancashire Constabulary
Lancashire FRS
Special recognition goes to, Lancashire Constabulary and Lancashire FRS for their exemplary contributions to road safety, and tireless campaigning to raise awareness of the importance of checking your tyres following the tragic death of Megan Byrne in 2020.
Stone Tyres scores three awards
Since Stone Tyres was the only company to win three awards at the event (Online and Social Media, Innovation & Technology and Retailer of the Year), it is worth hearing a little more from them.
St Helen's-based Stone Tyres employs five people and recently became a member of the First Stop network.
Examples of Stone Tyres' commitment to safety is an innovative tread scanner ramp, which represented an investment of £26,000. Stone Tyres was the first independent retailer to install such technology in Europe offering 3D tyre tread readings for customers on a plasma screen as they wait in the reception area.
It was also the first independent retailer to offer free puncture repairs for the life of any new tyre purchased one of few tyre dealers to use a Hunter Road Force elite balancing machine, which incorporates a 'rolling road' giving the best balance available.
In addition, few garages have done more to eradicate the use of part-worn tyres than Stone Tyres, who haven't just banned the sale of them from its depot, but had legislation changed across four councils (Liverpool, Wirral, Sefton and St Helens) ensuring that 16,000 private hire vehicle no longer use them.
Owner John Stone said: "Winning one TyreSafe award is something we would have been proud of, but to pick-up three is incredible. It is testament to a great deal of hard work that has taken place over the past 12 months.
"These awards also belong to the team I have. They are the best ambassadors any business could wish for and they communicate the tyre safety message better than anyone."
TyreSafe chairman Stuart Jackson commented: "Stone Tyres is among TyreSafe's most active supporters and commit considerable resources to their campaigning efforts. With limited resources at their disposal, it takes passion and commitment for independent retailers and smaller operations to find the time and money to support the tyre safety awareness message, but John and his team have done this to great effect."