Latest Triangle tyres displayed at Hillhead as RH Claydon partnership grows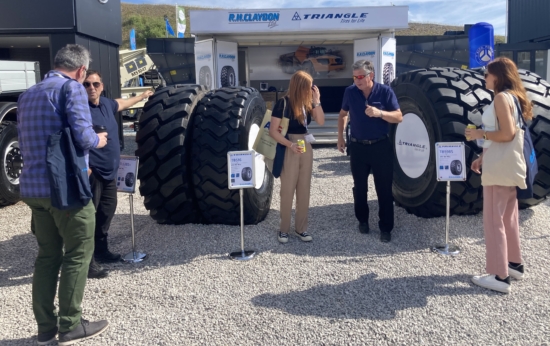 RH Claydon leveraged its recently formed partnership with prominent construction tyre manufacturer Triangle at Hillhead, the UK's largest quarrying, construction and recycling exhibition, in Buxton (21-2 June). The companies welcomed jointly visitors to their 70 square metre booth, showcasing a representative sample of Triangle's broad portfolio of off-the-road specialist tyres.
Tyres on display included the 750/65R25 TB598S E4 radial tyre for articulated dump trucks. Designed for exceptional traction and reliability, the tyre combines a deep tread pattern with Triangle's new wear-resistant formula to prolong service life and improve puncture resistance, thus increasing the production efficiency.
The 20.5R25 and 23.5R25 TB516 L3/E3 versatile radial tyre engineered for ATD's, loaders and bulldozers allow users to maintain a high level of productivity while traversing the most demanding terrain. The tyre's casing is constructed with enhanced impact and cut resistance.
The 20.5R25 TL538S+ L5 is also engineered to be a long-lasting and rugged solution for wheel loaders and bulldozers. The tyre features an extra deep, open lug L5 traction pattern with staggered tread blocks for outstanding traction and ground contact. Designed to provide stability in severe off-road applications, the TL538S+ offers also excellent grip, powerful traction and outstanding cutting resistance in harsh environments.
Ruby Claydon, commercial director of RH Claydon says: "We have been delighted to attend at Hillhead 2022 with such a strong partner as Triangle Tyre. Our sales team, supported by the Triangle staff, have been on site throughout the whole duration of the event presenting the wide-ranging line-up of Triangle's products, answering questions, and offering an extreme valuable consultancy to all customers and visitors coming to our booth."
She added that Triangle's tyres are recognised by both end-users and top OEMs "making the brand very visible and requested in the market."