World's leading tyre companies 2022: Michelin and Bridgestone neck and neck for pole position


Michelin remains the world's leading tyre company by sales turnover, but Bridgestone is close behind in one of three close battles distributed across the table. For the first time, our research ranking market-leading global tyre manufacturers in terms of sales turnover converted into euros, illustrates the impact of recent high-profile acquisitions as well as the ongoing disruption of pandemic on the wider market landscape.
The headline news is that despite everything that has taken place in recent years, Michelin remains the world largest tyre manufacturer by sales turnover in euros (something we do in order to contextualise the data into our unique European market context). Other tyremakers such as second-placed Bridgestone and Continental (#4) have greater total group sales, but when it comes to revenue generated explicitly by tyres Michelin remains number one.
However, the gap between Michelin and Bridgestone in second position is now down to just 289.2 million euros. Last year the gap between Michelin and Bridgestone was 410.3 million euros, so the already relatively small gap has closed significantly in the last year. Indeed, were the gap between first and second to continue on this trajectory there would soon be less than 1 per cent between Michelin and Bridgestone, so it is fair to say that the top two are already something in a neck and neck battle for pole position.
Nevertheless, such is the scale of these two tyre industry giants (Michelin and Bridgestone) one per cent of annual turnover remains a very significant amount of money. To put it another way, the current gap (289.2 million euros) is greater than 35th placed Nankang's total 2021 turnover.
Goodyear overtakes Continental into third position
The sheer size of the two global market leaders makes it difficult for other tyre firms to compete at the top table. However, following Goodyear's acquisition of Cooper last summer, Goodyear has made significant progress forward – in a signal that further market consolidation in the top half of the table remains distinct possibility in the medium term.
As a result of its acquisitive growth, Goodyear's 2021 turnover shot up 15.431 billion euros, up from 10.040 billion the year before. As a result, Goodyear leapfrogged Continental into third position.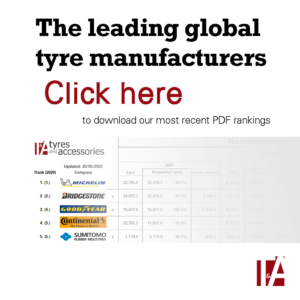 For its part, Continental's tyre-derived sales increased by more than 10 per cent during 2021 compared with the previous year, but it wasn't enough to fend off the rapid acquisitional growth of Goodyear. Meanwhile, Sumitomo Rubber Industries stayed in fifth place and also grew substantially in terms of sales but remains something like 5 billion euros behind Continental's 11.807 billion euro tyre turnover total.
Pirelli and Hankook traded places once again with Pirelli ending on top in sixth place with 5.331 billion euros of sales. However, Hankook's 5.304 billion is less than 30 million euros behind and so the two firms are even more neck and neck than Michelin and Bridgestone at the top of the table. With that in mind, it would be no surprise if the tables were turned once again in June 2023 and if Hankook overtook Pirelli once again.
Yokohama's solid eighth position is based on the company's 2021 financial results and so doesn't include the impact of the company's acquisition over-2 billion-euro acquisition of Trelleborg Wheel Systems. A linear addition of Trelleborg's 982 billion euro tyre-derived turnover to Yokohama's 2021 figure of 4.496 billion euros would theoretically catapult Yokohama into sixth place above both Pirelli and Hankook, whichever way round those two competitors end up next year.
ZC Rubber, China's largest tyremaker, also remains a significant force on a global scale in ninth position. The company stabilised its position in the top 10 this year, with 2021 sales equivalent to 4.209 billion euros, up from 3.508 billion euros last year. This growth means ZC Rubber now has almost a billion euros of sales between it and 10th place Maxxis (3.220 billion euros).
The picture remains relatively stable all the way down to 14th position where Apollo Tyres added half a billion euros of sales since the last table rising to 2.501.7 billion euros, something that resulted in the company gaining one position.
Sailun also rose one place to 15th with sales coming in at the equivalent of 2.501.6 billion euros. In other words, Sailun's turnover is virtually level with Apollo Tyres and the battle between 14th and 15th position is the closest of the three neck-and-neck races in the top 20.
Outside the top 20, Prometeon's addition as a separate entity, with sales amounting to 1.110.6 million euros in 25th place and Jiangsu General Science and Technology (591.5 million euros; roughly 34th place) stand out as two noteworthy additions to our annual coverage.
Click here to read our complete table