Tyre time – Michelin collaborates with Bamford London on exclusive watch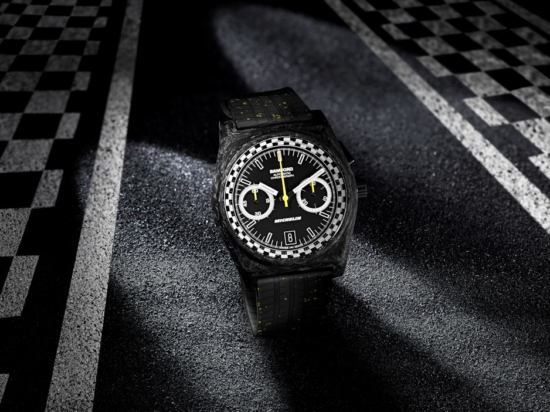 Tyre lovers, people who take sustainability seriously and anyone who knows how to tell the time will benefit from a recent collaboration between Michelin and Bamford London. The tyre maker and luxury products specialist have teamed up to create 133 limited edition watches – one timepiece for each year since Michelin was founded in 1889.
Announcing this exclusive product, Michelin describes the Michelin x Bamford B347 Pilot Sport as an "exciting blend of the two brands' visionary spirit and collaborative expertise, continuing to satisfy their customers' expectations as well as surprise them."
Bamford London launched the Swiss-made Bamford B347 in 2021, and the Michelin version of this model now brings new materials and design choices into play. "What started out as a light-bulb moment, stood next to a line-up of Porsches at a car event with a friend who works at Michelin, has developed into this stunning display of two pioneering brands. The racing-inspired design, lightweight carbon body, integrating the recycled tyre rubber and marking this by adding the tread pattern from their latest tyre – it all works," comments, George Bamford, founder of Bamford London.
About the watch
The Michelin x Bamford B347 Pilot Sport is an automatic monopusher chronograph with a 41.5mm black cutting-edge forged carbon case housing a Sellita SW510 automatic movement. The single push-button located at 2 o'clock provides the start-stop-reset function and the car-related references only begin there.
The tachymeter is a racing-inspired chequered pattern representing a start/finish flag. This watch launches in time for this year's Goodwood Festival of Speed, the only show in the year where Michelin appears in the Supercar Paddock without its normal blue and yellow corporate colours. However, the signature Michelin yellow is present on the seconds and sub dial hands of this watch.
The black dial features white accents as well as luminous hour and minute hands. The white sub-dials are a nod to Michelin's latest brand campaign showing tyres on vehicles as white, cartoon-style circles, a nod to the colour of the earliest car tyres.
The Michelin yellow also features as a unique coloured fleck on the strap, which is made using recycled Michelin Pilot Sport 5 test tyres. The material is from Michelin's research and development campus in Ladoux, France. The strap features a real tread pattern, taken from the Pilot Sport 5: specifically, a 225/40 ZR18 (92Y) tyre. This size tyre would be used on cars such as the BMW E36 and E46 M3, and the British-built Lotus Evora and 3-Eleven Models, plus the Morgan Aero 8, and various iterations of the VW Golf GTI hot hatch.
A greener, cleaner tyre industry
Partnering Bamford London and Michelin to create the unique watch strap, Greenology, a specialist in full circle, sustainable solutions for end-of-life tyres, utilised the recycled Pilot Sport 5 test tyres. "It has been a privilege to work in collaboration with Michelin and Bamford, who are fellow innovative forward-thinking companies, to responsibly deal with tyres in a whole new way," comments Laura Hepburn, director at Greenology. "This collaboration is an excellent example of working together to help create a transition to net zero and a greener, cleaner tyre industry."
Adding to the special elements of this timepiece, the caseback and custom box depict a heritage 'race winner' Bibendum. This is a rare appearance for the Michelin Man outside of the tyre maker's own products.
Innovation meets lifestyle
"Bamford's expertise in high precision manufacturing, advanced materials and eye for detail are traits we share, making this collaboration an obvious choice," says Dan Smith, communications at Michelin UK. "It's also a statement, highlighting Michelin's presence as a lifestyle brand. We're more than tyres. Michelin sets the standards in food, hotels and experiences. George and I thought, why stop there? There is always a demand for Bamford's brand collaborations, especially when produced in limited numbers. This joint project has allowed us to create something aspirational, that represents Michelin today, all whilst putting some R&D samples of our latest tyres – the Pilot Sport 5 – to good use."
This unique timepiece costs £2,500 and is available from Bamford London.