Charity to host off-road track day in Scotland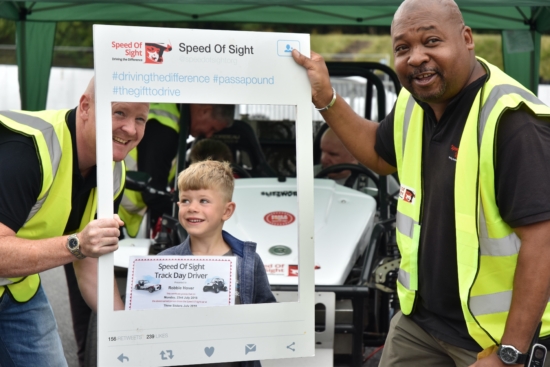 The charity, Speed Of Sight, is hosting an off-road track day for disabled people to enable them to drive at Cardenden Motocross Track in Lochgelly – its first event in Scotland in five years. The event is taking place Monday 15 August 2022 from 10am to 4pm. The track is less than an hour away from Edinburgh and just over an hour from Glasgow. People with all disabilities will have the chance to drive themselves and an instructor around the off-road track. Readers can book places here.
Speed Of Sight is run by blind race car driver and multiple World Record holder Mike Newman and his co-founder John Galloway. The participant can have any disability, as the team is trained to help everyone in and out of the cars, which are specially designed and built – two racing cars and two all-terrain buggies – to allow people of all ages with disabilities to enjoy the excitement and thrill of driving.
The vehicles, named after Mike's guide dogs, are specially designed with dual controls and twin steering wheels and the buggies are equipped with hand controls.
Mike Newman enthused: "We are thrilled to host a driving experience in Scotland. We have hosted a few smaller events here, but this is a whole new level! We are extremely excited to bring this incredible experience to the people of Scotland and the off-road track is brilliant, so I know the participants will have the time of their lives!
"We created this charity because we believe that no disability should get in the way of having the incredible experience of driving a car, which is why, when I was told I would not be able to because I have been blind since birth, I decided to become the fastest blind man – on land, water and in the air!
"I did not let my disability stop me and it has changed my life, and that's what we are trying to bring to every person who has a disability and has been told they cannot do something that is so normal for everyone else. We are trying to bring these driving experiences to as many people as possible, so it is brilliant that we have now brought our events to Scotland.
"Sometimes we have people who attend our events who don't realise that they'll actually be able to drive the cars themselves, but when we get them in the seat and tell them how to use the pedals and steering wheel, their faces just light up and they get so excited – it really does amaze me that we're able to provide that joy to people."