ZC Rubber launches Westlake, Goodride European flagship tyres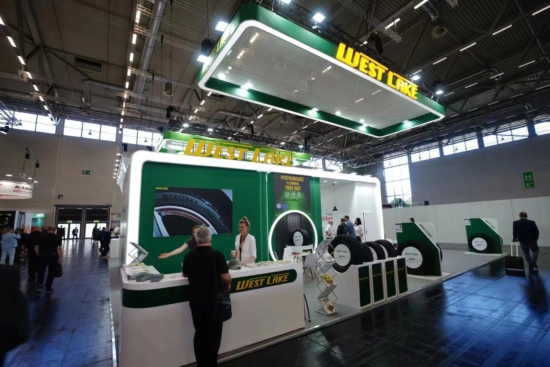 ZC Rubber has launched new flagship tyres in its Westlake and Goodride European ultra-high performance car tyre ranges at The Tire Cologne 2022. The Westlake ZuperAce Z-007 and Goodride Solmax 1 are designed to deliver quieter running, increased grip, and handling performance, ZC Rubber says. The manufacturer adds that it has upgraded the tyre structure with core technologies from ZC Rubber, BPOT technology and Hybrid formula. The Westlake ZuperAce Z-007 and Goodride Solmax 1 will be available in ranges of 17-22 inch sizes for the European market starting in June 2022. Both tyres will be fully introduced throughout Europe and Southeast Asia in the second half of 2022, following the initial roll-out.
BPOT technology is designed to improve significantly tyres' high-speed performance, shoulder durability, and wear resistance. Hybrid Formula technology optimizes the distribution of Nano-Silica for improved grip and fuel efficiency while allowing for faster water drainage, resulting in the two tyres' enhanced wet performance.
The Westlake ZuperAce Z-007 is a UHP tyre with strong overall performance, ZC Rubber says. Thanks to innovative technological advances, the Z-007 outperforms the previous generation of UHP products in every way. It features large continuous blocks and scaled grooves with bevelled edges for improved handling and grip performance. Coupled with the use of Hybrid Formula, the tyre's wet braking distance has been reduced by 10 per cent. It also offers a five per cent reduction in rolling resistance thanks to a redesigned tyre profile based on ZC Rubber's updated design theory. In addition, the 24 Soundbolt Arrays significantly minimise its interior noise levels for maximum comfort.
The flagship tyre in the manufacturer's Goodride range combines sporty and dynamic driving performance. The Goodride Solmax 1 adopts a variable-pitch noise-reduction block design, V-shape soundbolts inside grooves, and a staggered arrangement of inner and outer lateral grooves. The simple, aggressive tread design ensures a larger contact patch area when cornering, which enhance wet drainage performance. The tyre's Hybrid Formula, on the other hand, ensures that the tyre maintains stable handling at high speeds, resulting in a more comfortable driving experience for consumers.
The two new flagship tyres have been certified by the independent institute TÜV SÜD. They were awarded the TÜV SÜD Mark certification at The Tire Cologne.
"Westlake and Goodride's two flagship tyres are developed to meet the ever-evolving and more diverse consumer needs. They are the culmination of our R&D efforts in recent years. We are certain that they will become smart choices for European consumers in terms of quality, value and style." The two newcomers, according to ZC Rubber, exemplify the company's goal to expand in the high-end passenger car tyre segment.