Yokohama Rubber: Record sales, lower profit in Q1 2022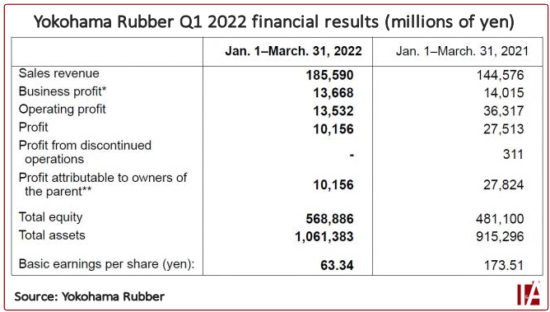 Although the sales revenue of 185.6 billion yen (£1.2 billion) earned by the Yokohama Rubber Co., Ltd. in Q1 2022 was the highest figure it ever achieved in the January-to-March quarter and a 28.4 per cent improvement on the result attained a year earlier, the company nonetheless had little cause for celebration by the time rising costs and other complications were factored in. Profit attributable to owners of parent declined 63.5 per cent year-on-year in the first quarter of 2022 to 10.2 billion yen (£64.9 million). Operating profit was, at 13.7 billion yen (£87.1 million), down 62.7 per cent.
Sales revenues were helped by price rises implemented in North America and other markets as well as the weakening of the Japanese yen against the US dollar and the euro. Business profit was pulled down by higher costs for raw materials and rising logistics expenses, disruptions in global supply chains and the challenges presented by the COVID-19 pandemic.
Tires segment
First-quarter sales revenue and business profit in Yokohama Rubber's Tires segment increased over the same period of last year. Sales revenue for original equipment tyres increased despite the adverse effect of global semiconductors shortages upon vehicle production volumes.
Sales revenue rose overall in the replacement tyre business. Yokohama Rubber promoted high-value-added tyres in Japan, introducing new products under the Advan series and other brands. Sales revenue benefited in Japan from heavy snowfalls, which stimulated demand for studless winter tyres, and from a surge in purchases in advance of price increases. Sales revenue from replacement tyres rose in North America and in India and other Asian markets outside Japan.
Yokohama Rubber posted solid growth in off-highway tyres for agricultural machinery, industrial machinery, and other applications. The company formerly accounted for its off-highway tyre business as the ATG (Alliance Tire Group) segment, but it has transferred that business as Yokohama Off-Highway Tires to the Tires segment as of the present fiscal year.
MB Segment
In Yokohama Rubber's MB (Multiple Business) segment, sales revenue increased over the same period of the previous year, but business profit declined on account of such factors as rising raw material costs and a tight labour market in the United States. Sales revenue in hose & couplings rose in Japan and overseas, led by strong sales of hoses for construction equipment. Yokohama Rubber also posted growth in sales revenue in industrial materials. That growth occurred despite weakening demand for marine products. It reflected successful measures to bolster sales of conveyor belts in Japan and a recovery in demand in the commercial aircraft sector for replacement fixtures and components. Yokohama Rubber formerly accounted for its business in aircraft fixtures and components as a separate product category, but it transferred that business to industrial materials as of 30 March 2022.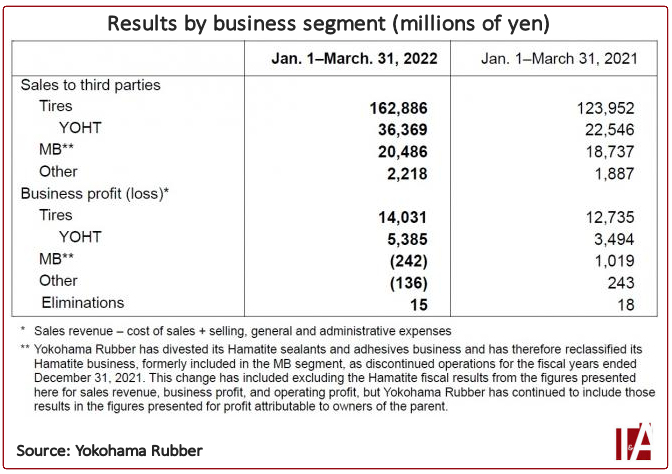 Full-year projections maintained
Management at Yokohama Rubber abides by the full-year fiscal projections for 2022 that it announced in February 2022. Those call for profit attributable to owners of parent to total 40.0 billion yen (£254.4 million) on operating profit of 58.5 billion yen (£372.1 million), business profit of 60.0 billion yen, and sales revenue of 750.0 billion yen (£4.8 billion).