World's fastest: Zeiss launches '55 second' tyre inspection machine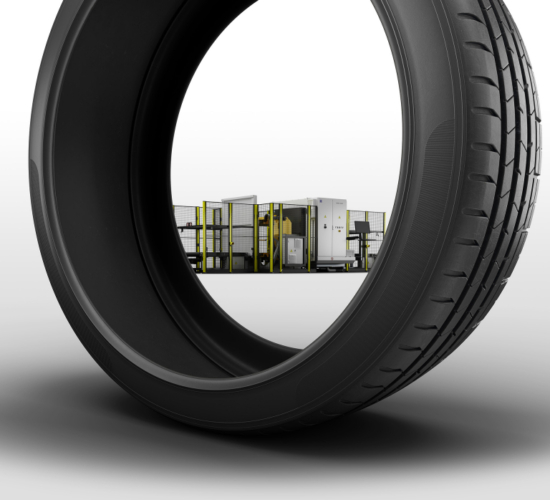 Zeiss says its latest shearographic tyre inspection system is the "fastest single machine in the world" for inspecting new and retreaded tyres. The optics and optoelectronics specialist introduced the Zeiss Intact 1360-X in April with the promise of a fast return on investment for purchasers thanks to its "drastic savings for labour costs." The 1360-X can inspect a complete tyre from bead to bead for separations and air bubbles as well as foreign objects in just 55 seconds, including loading and unloading.
Although Rainer Huber, product manager NDT at Zeiss IQS, notes that the 1360-X "has been specially developed to optimise production processes in the manufacturing of new tyres," Zeiss stresses that "large retreading plants will also benefit from this machine's advantage of speed."
Initial return-on-investment calculations made by Zeiss assume that a tyre maker or retreader's purchase of an Intact 1360-X can be amortised through personnel cost savings within about two years, depending on the region, provided the machine is used 24/7. "But given the current acute shortage of highly skilled staff, these cost savings are only one benefit," stresses Zeiss, adding that many decisions-makers will also "find it compelling" that the 1360-X takes up less floorspace than would otherwise be required to achieve the same output. Furthermore, the use of individual machines lowers complexity, and therefore the error rate, as well as the risk of a complete equipment failure.
Optimised processes for maximum performance
The extremely fast inspection times that can be achieved with the Intact 1360-X are possible thanks to Zeiss's use of an innovative sensor technology that includes ten high-resolution probes that work simultaneously. This allows for a reduction in the axial movements and the number of inspection cycles needed to detect errors on both the tyre's tread and the sidewall. Also, the motors bring the maintenance-free cameras to the desired position faster than previously.
All Zeiss Intact systems are equipped with tyre size recognition as standard. This ensures the automatic positioning of the probes, and therefore a maximum boost in performance. The result is an inspection process that is simple, fast and secure. Operator errors, for example selecting the wrong inspection programme, are not possible with the 1360-X. This increases the equipment's profitability and allows tyre makers and retreaders to quickly instruct staff to use the machine without their needing to have expert knowledge. Due to the user-friendly software, the inspection results can be easily analysed and utilised.
Zeiss claims that integrating the 1360-X into existing production processes is just as easy as using the machine. In addition to an MES interface as a web API, the 1360-X comes standard with a standardised interface for external conveyor systems. Commenting on the results of field tests at one pilot customer, Huber comments that the 1360-X lifts "the quality assurance in tyre manufacturing to a whole new level."