Nordexx enters OTR tyre segment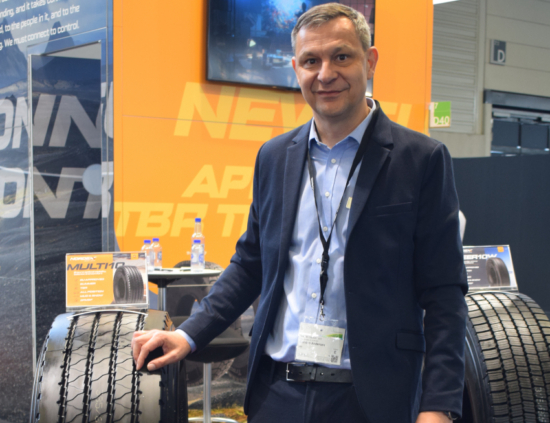 We're familiar with the Nordexx brand, which NDI Group A/S first launched as a car tyre range in 1998 and extended over the years. Truck tyres have been available for a while too. But a visit to The Tire Cologne this week confirmed that the Nordexx portfolio is still growing.
Carsten Andersen, agricultural and industrial tyre export manager at NDI, directed our attention to an example of an OTR radial range that already consists of nine tyre models and 37 SKUs. The Nordexx OTR line-up includes tyres for mobile cranes, loaders and dumpers, with hard surface and winter options available. NDI plans to extend the range to cover applications such as earthmoving and port use, amongst others.
"It's rare for an own brand to include OTR products," comments Andersen. NDI has contemplated entering this segment for some time, and the export manager says the company has "high expectations" for its new products, which are made to meet the quality demands of European customers. "We believe there is a significant potential for the tyre on the global market."
Andersen also showed us the latest additions to the Nordexx TBR range, developed for European conditions and manufactured in Thailand. As for what we can expect from Nordexx in future, the export manager said that agricultural tyres will join the range, however he did not name a date for these products' launch.