Motul, Toyota Gazoo Racing UK target BTCC success in 2022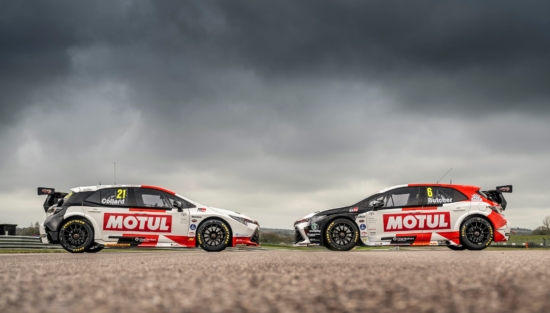 Motul is continuing its partnership with the Toyota Gazoo Racing UK works team in this year's British Touring Car Championship (BTCC) campaign. Motul's expertise in developing new lubricant solutions for both motorsport and general automotive lubrication has few equals and Motul was the first company to bring a dedicated range of Hybrid engine oils to the market. This year's BTCC features new Hybrid engine technology, so it was fitting that Motul was involved in the development of the new engines, providing lubricants for the testing programme for this new and more sustainable generation of BTCC racer.
Last year's team leader, Rory Butcher, piloted the red and white, Motul-branded Toyota Corolla GR Sport to its best results, and over the second half of the campaign in particular, the Scot was a regular contender for honours. The 35-year-old Kirkcaldy-born ace – like Speedworks, a former BTCC Independents' Champion – returns in 2022 as he spearheads the Toyota Gazoo Racing UK charge alongside new team-mate Ricky Collard.
Although much of his motorsport career has been based around GT Racing, Ricky Collard is no stranger to BTCC, having substituted for his father Rob, in the factory BMW team in 2018 for a number of races, which included a podium finish, so hopes are high of a strong overall team performance for 2022.
"It is great to have Motul with us once again as our lubricant partners. Their provenance in motorsport is exceptional, their technical expertise is cutting-edge and the quality of product an absolute given," enthused Christian Dick, team principal, Speedworks Motorsport. "We look forward to them being actively involved with us throughout the season and, hopefully, to challenging once again both for race wins and championship success."
Motul supplies a number of teams in the BTCC race paddock – including being the officially mandated lubricants supplier again this year for the ultra-competitive F4 single seater series that forms part of the BTCC race weekend.
Every BTCC race meeting will once again be broadcast live on ITV 4 and the new season kicked off at Donington Park over the weekend of 23-24 April.