Kumho wins two iF Design Awards 2022 for Ecsta HS52 performance tyre, concept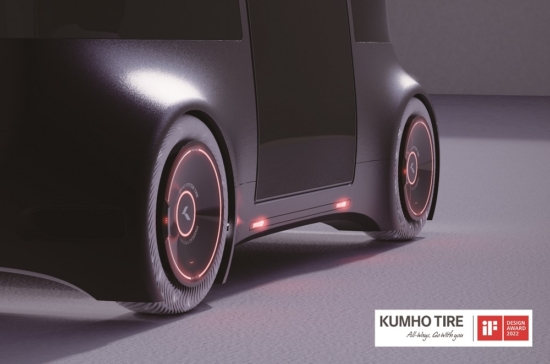 Kumho has been awarded two iF Design Awards. The Korean manufacturer was recognised for its new high-performance tyre, the Ecsta HS52, and one for its latest future tyre concept, Fin-Sread.
The newly launched HS52 is aimed at premium passenger cars and sports vehicles and will be available in the UK in 46 sizes by the end of 2022. The solid block design of the tread pattern helps maintain a steady pressure on the road surface, reducing impact and noise and improving ride comfort. Strong shoulder blocks ensure stability and good handling.
Kumho's Fin-Sread is a new airless, electronic tyre platform. Its airless structure seeks to reduce accidents by eradicating punctures, while the independent control of each unit maximises ride comfort and the centre section actively blocks out noise.
Kumho Tire's R&D Division head, Cho Mansik said: "As vehicle electrification gathers pace, the design of their component parts is also advancing rapidly. Tyres are being developed that create synergy with the other elements and will rapidly transcend existing limitations. We continue to reflect Kumho's future-oriented vision and value in our products."
Organised by the International Forum Design of Germany, the iF awards are amongst the world's most prestigious. Along with the Red Dot and IDEA awards, the 69-year-old accolades are recognized as one of the top design prizes in the world. Winners are selected by an independent jury of design experts via a comprehensive screening process that takes into account design excellence as well as innovation, environmental friendliness, quality, functionality and convenience. Last year, Kumho was the recipient of all four major global design awards – the German iF, North American IDEA, German Red Dot and Japanese Good Design.