Goodyear voted Auto Bild summer tyre maker of the year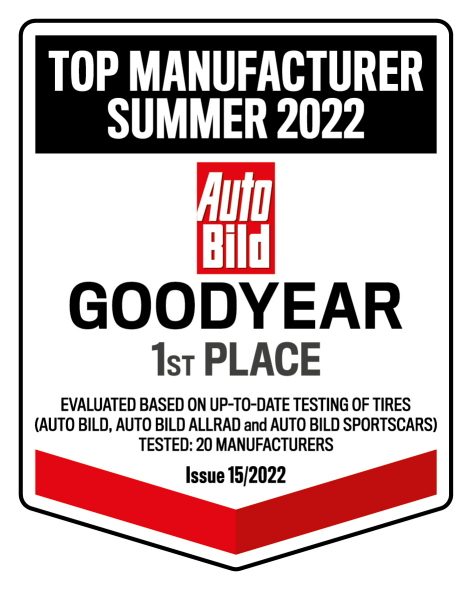 Leading German motoring magazine Auto Bild has named Goodyear its summer tyre manufacturer of the year. It announced this honour in the 13 April 2022 edition of Auto Bild (issue 15/2022) after declaring the Goodyear EfficientGrip Performance 2 winner and eco champion in its main summer 2022 tyre test and the Eagle F1 Asymmetric 6 victor in its high-performance test. Partner publication Auto Bild Allrad also voted the EfficientGrip 2 SUV joint winner of its summer test.
Announcing its selection, Auto Bild stated that "the best summer tyres come from Goodyear" and said that the brand's new tyre models "convince with both dynamic top performance and future-oriented sustainability."
The newest addition to Goodyear's summer tyre range is the Eagle F1 Asymmetric 6, an ultra-high-performance tyre designed to be 'Ready for Anything', combining dry and wet performance, efficiency and readiness for electric vehicles and future mobility.
Award recognises engineering & tech advances
This latest success follows on from Auto Bild's selection of Goodyear as its all-season tyre manufacturer of the year in both 2020 and 2021, a distinction aided in no small way by its Vector 4Seasons Gen-3.
"We are extremely proud to be named as Auto Bild's summer tyre manufacturer of the year," states Laurent Colantonio, Goodyear's regional technology director EMEA. "This award recognises the engineering efforts and technology advances that go into creating a summer tyre range that covers different corners of the market. Adding this to our win of Auto Bild's all-season tyre test underlines Goodyear's expertise in developing tyres capable of performing in varied conditions, and in many different parameters, from ultimate efficiency to extreme performance and anything in between."