Bridgestone supports international youth motorcycle racing series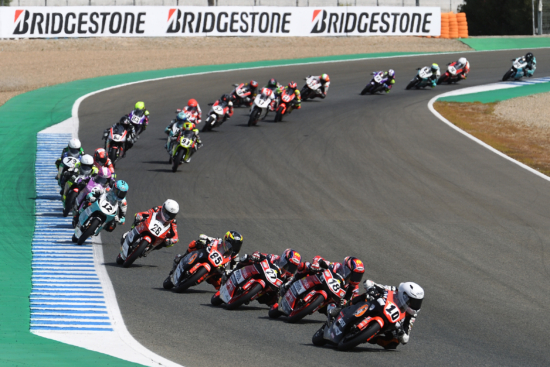 Bridgestone has confirmed a second year of partnership with the Hawkers European Talent Cup (HETC). As of this year, the tyre manufacturer is also official partner of the Federation Française de Motocyclisme (FFM) and sole supplier for the Objectif Grand Prix (OGP), the French national championship dedicated to promising young riders. Bridgestone says it shares the passion for competition and performance that are the basis of motorcycle racing.
The HETC has made a name for itself as a championship for young riders who want to progress to the Moto3 FIM JuniorGP championship, Moto2 and eventually MotoGP. Bridgestone is the sole tyre supplier, working alongside aspiring champions competing for the title during seven races at some of the Iberian Peninsula's premier circuits.
Starting this year, Bridgestone will also join the FFM as the official partner and sole supplier for the OGP, the most important youth competition in French motorcycle racing. The championship consists of seven races in France, and enables young drivers aged 11 to 18 to compete. The series' objective is to support the discovery and training of young talents.
Riders in both HETC and OGP will be provided with the high performance Bridgestone V02 slick tyres.
"The world of youth competitions never ceases to fascinate with the passion, enthusiasm and energy that we can admire in these young talents", says Nico Thuy, motorcycle business director at Bridgestone EMIA. "Bridgestone recognizes itself in the constant commitment to excellence shown by the teams and all aspiring champions participating in HETC and OGP and just like them is prepared to perform. Through the products we make at Bridgestone and our partnership with these competitions, we want to provide support to the growth of international motorcycling and to new and upcoming generations of professional riders."