Bridgestone launches semi-slick Potenza Race track day tyre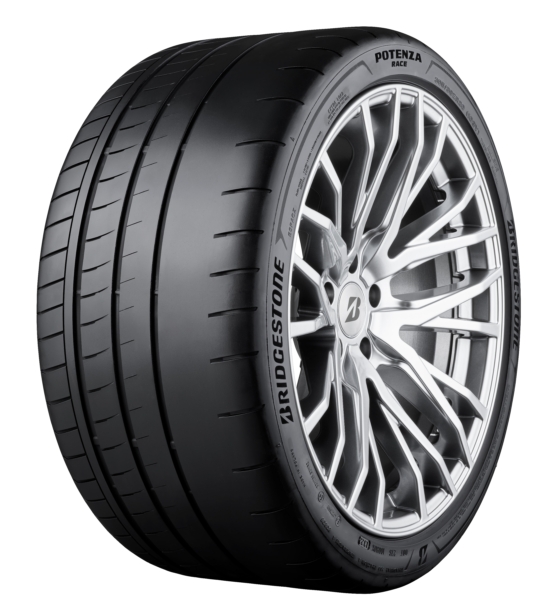 Manufacturer's first tyre of its kind produces class-leading lap times and outstanding longevity according to TÜV SÜD tests
Bridgestone has launched the semi-slick Bridgestone Potenza Race, its first ever tyre day tyre for the replacement market. In testing conducted by TÜV SÜD at the 6.115km Nardo circuit in Italy, the tyre was able to improve upon average times set by three leading competitor tyres over three laps by an average of more than two seconds. It was also ranked second for longevity, and delivered class-leading dry braking at Bridgestone's European proving ground. The Potenza Race is homologated for public roads, but with performance focussed on track days. Developed and manufactured in Europe, the Potenza Race will be available in 13 popular sizes  between 17 and 20 inches from June 2022, supporting the most commonly sighted hot hatchbacks and sportscars at track days.
The tyre is the latest addition to Bridgestone's Potenza range, which was developed from its association with Formula One racing. The Potenza Race has original equipment fitments for a variety of sports models, including Lamborghini's Huracán STO and Huracán STO Tecnica and the Seat Leon Cupra hot hatchback.
High performance enabled by tread pattern, construction and compound
Bridgestone says the Potenza Race's advanced performance is enabled by a collection of new technologies in its tread pattern, construction and compound. The tread design applies an asymmetric pattern, with differentiation between the outside and inside of the tyre to maximise cornering power and braking potential while still guaranteeing suitable usage on wet roads.
Asymmetric wall angles on the Potenza Race tyre further increase lateral stiffness and reduce block deformation, and a special rear tread pattern with an increased shoulder rib provides maximum dry performance with optimised braking and block stiffness.
To achieve its track performance, the Potenza Race also incorporates a sporty profile shape, helping to increase the contact area and maximise braking potential. An optimised contact patch helps to improve steering feel and controllability, increasing driver confidence.
The Bridgestone Potenza Race also benefits from a new compound, with innovative mixing to improve chemical reaction control, balancing the reinforcing mechanism and rolling resistance. The result is an optimised formula for enhanced dry performance, with high stiffness that boosts dry cornering and straight-line stability.
Virtual Tyre Development
The new Potenza Race was developed using Bridgestone's Virtual Tyre Development technology. Bridgestone creates and tests digital versions of an in-development tyre, helping the manufacturer to predict how a tyre will perform in different conditions before physically building prototypes. As a result, Bridgestone can test far more variants in a virtual world, which cuts tyre development time by up to 50 per cent, according to Bridgestone estimates. It also delivers environmental benefits, such as a reduction in raw material consumption thanks to the reduction in prototype tyres produced for testing.
Commenting on the launch, Emilio Tiberio, COO and CTO of Bridgestone EMIA, said: "The Potenza Race adds an additional dimension to our iconic Potenza range. The existing Potenza Sport has been an incredible success since it launched, and now the Potenza Race takes things a step further by offering unrivalled performance to track day enthusiasts. Many have already seen and experienced what the Potenza Race original fitments can do on the Lamborghini Huracán STO and Seat Leon Cupra – we're thrilled to be bringing it to the replacement market for more drivers."
Bridgestone concludes that the project aligns with its E8 Commitment, which consists of eight values starting with the letter "E" (Energy, Ecology, Efficiency, Extension, Economy, Emotion, Ease, and Empowerment). The manufacturer said this particular tyre is aligned with the Emotion part of the octet of values, in its words, "committed to inspiring excitement and spreading joy to the world of mobility."
The tyre was tested by TÜV SÜD against the Goodyear Eagle F1 Supersport R, Michelin Pilot Sport Cup 2 Connect, and Pirelli P Zero Trofeo R (Report No. 713231330). Tests were carried out on the request of Bridgestone in November 2021 and March 2022 at Bridgestone EUPG, Italy and Nardo, Italy. 245/35 R19 tyres were fitted to Mercedes AMG A45s for testing.