Updates for Conti EcoRegional, Hybrid ranges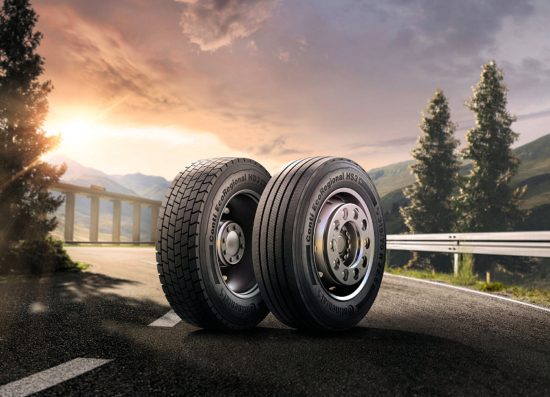 Generational change is taking place within Continental's commercial tyre range for regional applications. A new trailer tyre has joined the Conti Hybrid Generation 3+ line-up, while an update to the Conti EcoRegional range brings us new steer and drive tyres.
EcoRegional Generation 3+
The Conti EcoRegional Generation 3+ tyre line is ideally suited to mixed regional and long-distance haulage. Continental developed these tyres for journeys involving multiple deliveries over the course of a day, driving in heavy traffic and on winding roads, and says they offer reduced rolling resistance and superior fuel efficiency, low CO2 emissions and future-proof logistics.
"The Conti EcoRegional HS3+ for the steering axle and Conti EcoRegional HD3+ for the drive axle represent an uncompromising upgrade for this tyre family," comments Hinnerk Kaiser, head of bus and truck tyre product development at Continental.
Proven tread design
The Conti EcoRegional HS3+ retains the tread design of its predecessor and once again features pocket sipes to minimise uneven wear and improve water dispersion. Full depth sipes continue across 50 per cent of the rib width. Groove geometries ensure uniform transfer of power together with a long tire service life. Continental attributes much of the reduction in rolling resistance to a modified tread compound.
Likewise, the new Conti EcoRegional HD3+ isn't distinguishable at a glance from the model it replaces. Continental says the proven low-void design with a high number of gripping edges in the tread delivers low deformation, low rolling resistance and high mileage. Special 3D sipes reinforce tread stability and durability. The tyre maker reports achieving a substantial reduction in rolling resistance by using an enhanced production process for the drive axle, and further states that a modified casing construction improves rolling resistance without any negative impact on mileage.
"The tyres in the Conti EcoRegional Generation 3+ line are the result of an enhanced production process that lowers rolling resistance without sacrificing mileage performance," explains Kaiser. "This process involves curing the tyres at a relatively low temperature for longer and is known as the Conti Diamond Technique. It has the benefit of giving the polymers and carbon particles more time to react with one another and crosslink effectively, resulting in less internal friction within the compound. This in turn has the effect of improving rolling resistance."
Both the Conti EcoRegional HS3+ and the Conti EcoRegional HD3+ bear the 3PMSF marking on their sidewalls. Certain tyre sizes can be ordered with factory-equipped sensors.
Conti Hybrid HT3+
Continental says the addition of a plus to its Conti Hybrid range of regional truck tyres "indicates more than just a cosmetic update." In contrast to the Conti Hybrid HT3 model it replaces, the new generation of trailer tyre for regional distribution applications bears the 3PMSF marking on its sidewall. Conti Hybrid HT3+ joins the 2020-introduced Conti Hybrid HS3+ in the updated range.
According to the manufacturer, the tyre's groove geometry and improved pocket sipes offer enhanced grip in wet and wintry road conditions, while the tread design ensures outstanding mileage too. "The new Conti Hybrid HT3+ represents the logical next step for heavy-duty transport," remarks Hinnerk Kaiser. "The Hybrid line is renowned for its combination of long service life and outstanding fuel efficiency. This maximises cost effectiveness for fleet operators – and can now do so 365 days a year thanks to the 3PMSF rating."