Seryt Ltd: Rapid growth despite pandemic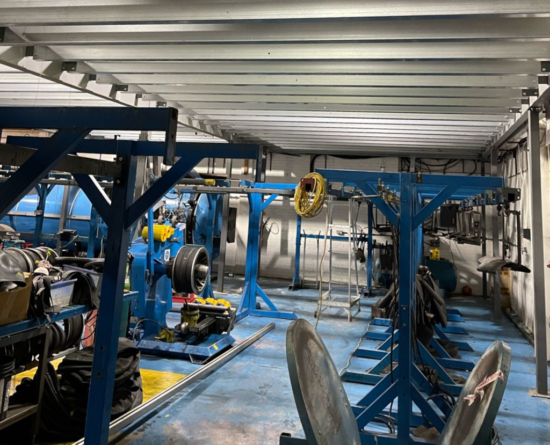 Having been founded in 2015, Hove-based retreader Seryt Ltd (also known as Seryt Group) is still a relative newcomer. Not only that, but the business was founded at a time when the UK retreading scene has consolidated, meaning it is now made up of comparatively few players, all of which are decades older than Seryt. Nevertheless, something about Seryt's approach brings with it the necessary fresh air for success and the company continues towards its ambitious European expansion plans despite wider market headwinds.
Perhaps we shouldn't be surprised. The first time Tyres & Accessories reported on Seryt Tyres, the continent was just entering pandemic-related lockdown and the local UK retreading sector had experienced a series of consolidating acquisitions. Further strategic sales took place in the months afterwards and yet Seryt Tyres continued to move in the other direction and still continues to report that the business is growing.
That growth is based on a canny combination of organic and acquisitional growth. When we last spoke in March 2020, Seryt Tyres was close to completing the construction of a new in-house pre-cure retread production line. Two years later, the company' first hot cure retread is scheduled to move into production this year.
The strategy back then was to focus solely on truck tyre retreads and plant tyre sales. The necessary stock for supplying these niches is sourced from a select group of suppliers in Europe, which have made (and in some cases still make) Seryt tyres on the company's behalf. This organic growth strategy is supported by a continued emphasis on new truck tyre wholesale as well as retread manufacturing and sales. Indeed, the Seryt Tyres website bills the company as "the UK's only retread manufacturer and new tyre wholesaler", adding elsewhere: "We work with brands across Europe and the rest of the world, bringing a fantastic catalogue of products to the UK market."
As far as acquisitional growth is concerned, Seryt Tyres' purchase of the Dutch Frapa Rubber retreading business at the end of 2019 is the clearest example. Back then, the idea was to pivot from Frapa into Europe, specifically supplying Belgium, The Netherlands and Northern Germany in the first phase. Now, Seryt's European sales plans are even more ambitious with the long-term goal set at becoming one of leading retread sellers in Europe and specifically within the top four during the next five years.
Kevin Gillin now 100% owner of Seryt Ltd
Seryt Tyres might be relatively young as a company, but its leadership team bring with them combined market experience in excess of a century. Together with the 100-year history of the Frapa Rubber business Seryt bought a few years back, the company is gaining market experience in other ways. Seryt Tyres has also become something of a retreading materials supplier in the time since we last reported on the company. Specifically marketing itself as "Seryt B2B: Tyres, Wheels, Tooling, Consumables", the company appointed consumables expert Bruce Somerville as sales director for this part of the business in the middle of last year. With 35 years of sales leadership experience at Rema Tip-Top and Apaseal, Somerville, brings additional clout to the company's plans to expand the consumables business in both the UK and Europe.
All the different expansion-related developments mean a new 5000 square foot truck tyre storage floor has become necessary. At the same time, Seryt tyres is investing in the construction of 2000 square foot of office space. Unspecified "new machinery" is also being installed along with additional ducting which will allow the company to re-use the energy consumed by the factory in order to heat its offices.
Last, but certainly not least, there have been some ownership changes. Seryt Tyres retains the same core leadership and the same ambitious growth plans outlined here, but Kevin Gillin – the company's founder and one of the two owners up till now – became sole owner in mid-February 2022.
Commenting on that news, Keving Gillin said: "Anybody that knows me will know that Seryt Group was 50 per cent mine. However, today I purchased the other 50 per cent giving me full control and 100 per cent ownership of the whole group. My business partner [Horndean Tyres director, Peter Michie] has always been loyal to the group and I wish him the best of luck for the future."
If Seryt Tyre's business grows anything like according to plans, it will be a bright future for this Southern English retreading business too.