Prometeon launches new-generation Pirelli commercial range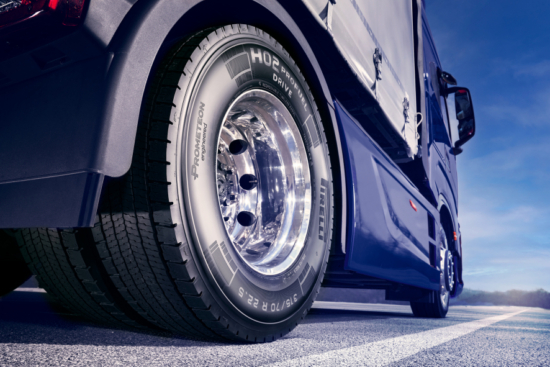 Prometeon is introducing a new generation of Pirelli-branded truck tyres, with five product lines for long haul, regional, urban and construction site applications arriving in EMEA markets early April. The range includes the first long haul Prometeon tyre with an EU label A rating for fuel efficiency.
The tyre maker says Pirelli Serie 02 is the result of four years of study and more than 100 million miles of on-road testing in Italy, Germany and Turkey. It tested 2,500 tyres while developing the range and utilised the input of a working group of 100 professionals drawn from research and development, marketing, logistics and commercial departments. "It is the most important product launch in the history of Prometeon Tyre Group, the only tyre manufacturer in the world fully focused on the Truck & Bus, Agro and OTR sectors," states the manufacturer.
Compared with the previous series Pirelli range, Prometeon states that Series 02 delivers improved performance in all areas. Rolling resistance across the first five product lines is 18 per cent better on average, and average mileage up ten per cent. Average durability in improved by ten per cent and evenness of wear by ten per cent.
Best tyre practice
"The Serie 02 represents the state of the art of Prometeon and represents best practice in production of tyres for professional use," says Roberto Righi, general manager of Prometeon Tyre Group. "For the company, it means a generational change of products thanks to our new technologies, focused on the sustainability of the tyres, starting with the use of raw materials and the production process to get to their recovery. This attention to the environment makes our products more sustainable both in the production process as well as in use, because they are able to promote the reduction of CO2 emissions as well as fuel savings – the latter is very important given the current market problems."
According to Prometeon, its research and development team concentrated its developmental targets upon innovation and sustainability, focusing efforts on an increasingly effective management of operating costs to ensure high mileage and "active sustainability" such as longer tyre life and lower rolling resistance. It adds that these technological solutions result in a tyre that "represents the maximum in terms of cost efficiency for professionals in the transport sector and respect for the environment." An "intense focus" was also placed upon compounds and the manufacturing processes needed to produce a "very balanced product."
Weight optimisation without compromise
"In the design and production, we focused on formulations and use of renewable materials; on formulations containing sustainable materials and on technological solutions and innovative processes that have allowed us to optimise the weight of the tyres without any compromise in performance," underlines Alexandre Bregantim, Prometeon Tyre Group's chief technical officer. "In addition, all products can be regrooved and are retreadable, extending the useful life of the tyre."
The first five Serie 02 product lines of to arrive are:
• H02 Profuel available as 385/55 R 22.5 and 315/70 R 22.5. All tyres in this line are rated A for fuel efficiency and B for wet grip;
• R02 Profuel available as 225/75 R 17.5 and 285/70 R 19.5;
• R02 Pro available as 385/65 R 22.5;
• U02 Urban-e Pro available as 275/70 R 22.5 and 315/60 R 22.5;
• G02 Pro available as 385/65 R 22.5.
New naming system
Prometeon has provided a cypher for those interested in breaking the naming code: The prefix letter indicates the application, with H standing for highway or motorway, R for regional; U for urban and G for construction sites and mixed on-/off-road use. This is followed by the series number 02. Then the type of use is indicated, with Profuel indicating reduced rolling resistance, Pro Trailer used for trailers and semi-trailers, Urban-e for city buses as well as electric and hybrid propulsion. Last but not least is axle position – Steer, Drive and Multiaxle.
The Prometeon brand appears on all Serie 02 tyres together with the phrase 'Prometeon Engineered' – the tyre maker considers this confirmation of "the design and production effort of Prometeon Tyre Group and the technological innovations achieved."
Pirelli Serie 02 tyres feature the 3PMSF winter marking, are equipped with an RFID sensor and are approved by major European vehicle manufacturers. Among the innovations at the heart of the Serie 02 are:
• PROGEA (Pro Grip Environment Approach): this is a new approach to materials, in particular to compounds. Prometeon says it has chosen to use sustainable materials, to protect the health of factory personnel and to reduce environmental impact without compromising on the performance of the product in terms of safety (wet grip) and efficiency (rolling resistance).
• SHTB (Super High Tensile Belt): cords are made with high-strength steel, providing high flexibility and prevention of corrosion propagation, for superior casing integrity and longevity.
• SWITe (Spiral Wire Technology): the cable of the zero-degree spiral belt has a new geometry and an increased diameter, promoting durability and resistance.
• COBe (Cross Over Bead): the reinforced bead, in combination with the new geometry of the metal threads, gives great flexibility, resistance and high load capacity.
• LEDB (Low Energy Dissipation Belts): innovative configuration of the belt pack to optimise the weight of the tyre and limit energy loss, promoting low rolling resistance and reducing fuel consumption.
• SSRP (Step Shoulder Rib Profile): a new tread shoulder profile promotes the correct distribution of footprint contact pressure, helping to improve even wear and mileage.
• HR4B (High Resistance 4 Belts): the belts structure is designed to maximise casing flexibility and structural resistance of the casing, helping to improve handling, durability and retreadability.