Giti amongst fastest risers in 2022 Brand Finance tyre ranking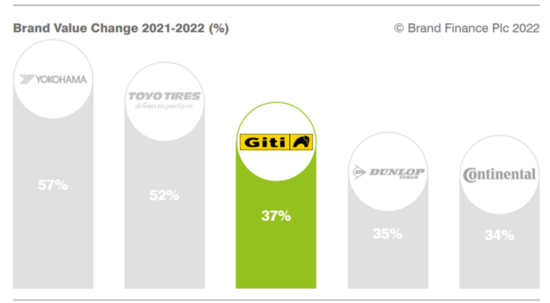 Not only did Giti break into the top 10 of Brand Finance's annual tyre brand ranking, but it is also amongst the fastest risers. According to the company, this result "underscores the efficiency of the strategies adopted in the last two years to overcome the problems resulting from the Covid19 pandemic".
More specifically, Giti representatives report that the company faced the challenges of 2021 head on thanks to "the flexible and digital mindset adopted in its management processes". And this means a continued focus on "Corporate Social Responsibility actions, working together with employees, supplier partners, and customers". As far as product development is concerned, this means investment in the AdvanZtech technological platform, which integrates Giti's five research and development centres.
"We have a wide range of automotive partners and OEM manufacturers by our side who recognize and trust the quality of our products," said Chris Bloor (Executive Director International Sales and Marketing), adding:
"With our modernized R&D network, automation and monitoring of tyre production trends, Giti is well-positioned for continued growth and is eager to deliver many other achievements to further strengthen our brand on the world stage".