From road to race – Sportauto tests 235/35 ZR19 tyres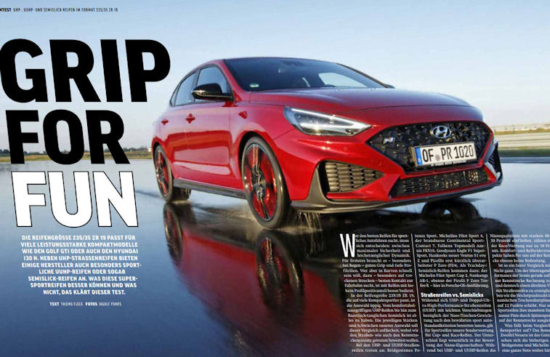 When searching for the best tyre for sporty driving, the choice is between maximum safety and the highest possible dynamics. The former involves good grip and deep grooves, especially in the rain. But for the fastest cornering and optimal contact with the road, especially in dry conditions, a tyre with a low void ratio is the way to go.
Tyre size 235/35 ZR19 is one worn by numerous smaller sport cars and a wide choice is thus available, from UHP models with excellent wet grip to track ready semi-slicks. To determine the respective strengths and weaknesses of these tyres, Sportauto tested ten different products – four UHP tyres, three UUHP tyres and a trio of track day semi-slicks.
While the German motoring publication evaluated the UHP and UUHP road tyres according to its established testing criteria, with slight adjustments to how it weighted the wet and dry test disciplines, it needed to apply different criteria for the semi-slick tyres. The fundamental difference was how it looked at performance in wet conditions: This respectively accounted for 40 and 30 per cent of the score for the UHP and UUHP tyres, but only ten per cent for the track-oriented rubber. Furthermore, based upon the assumption that comfort and rolling resistance is of no importance on the racetrack, Sportauto did not include these factors in the semi-slick tyres' final scores.
The publication concedes that an entirely fair comparison wasn't possible, as to take into account their outstanding performance on dry circuits and still allow a direct comparison with road tyres, it increased the maximum score in the semi-slicks' dynamic dry disciplines from 10 to 12 points. Sportauto explains that this was the only means of compensating for the "massive deficits" that semi-slick tyres exhibit in wet conditions.
UHP tyres
Rated phenomenal
Continental SportContact 7
+ Phenomenally good deceleration on both wet & dry surfaces at all typical road & tyre temperatures. Very balanced in sporting disciplines despite minor limitations.
– Slight deficits in longitudinal aquaplaning & ride comfort.
Rated very good
Michelin Pilot Sport 4
+ Very spontaneous, direct, precise & dynamic on dry roads whilst safe in the wet, fulfils sporting expectations.
– Comparably wide threshold in the wet, subjectively sensitive to puddles, low inherent damping.
Rated good
Pirelli P Zero (PZ4)
+ Decent lateral control and a very neutrally balanced sporty but safe & fast handling in the wet despite longer stopping distances.
– Longer stopping distances in the wet, insufficient dry grip during high-speed cornering, limited cornering stability.
Falken Azenis FK510
+ Safe braking distances & easy to control in the wet. Wide but indifferent limits in the dry.
– Sluggish and unsporty steering response in the dry, low steering precision, very sensitive to load changes. Overtaxed by vehicle performance when driving sportily.
UUHP tyres
Rated very good
Bridgestone Potenza Sport
+ Outstanding and safe cornering dynamics on wet & dry roads, combined with surprisingly good aquaplaning prevention. High steering agility and precision.
– Mediocre wet & dry braking grip during everyday driving.
Rated good
Hankook Ventus S1 evo Z
+ Safe driving in the wet despite long braking distance thanks to very good aquaplaning protection, handling characteristics that are dynamically sporty but inspire little confidence.
– Weak braking performance, particularly in the wet, only mediocre directional stability when braking hard in the dry.
Goodyear Eagle F1 SuperSport
+ Balanced performance in the wet despite long braking distance & change of load sensitivity. Car & tyre don't coordinate well in dry conditions.
– Weak braking performance at everyday temperatures, lack of stability when avoidance manoeuvring at speed. Sensitive to changes of load on wet roads.
Semi-slick/cup tyres
Rated very good
Nankang AR-1
+ Race-typical tyre, rather soft turn-in. High grip & lateral control. depending on temperature. Easily controllable with neutral to understeering lateral dynamics.
– Critical driving behaviour with early floatation and sudden loss of traction and lateral guidance in the wet. in the wet. Very loud humming rolling noise & associated vibration.
Pirelli P Zero Trofeo R (NO)
+ Very precise steering behaviour with a high level of lateral control. Wide, confidence-building threshold, neutral to slight understeer, easy-to-calculate load change response, strong traction. Wet performance controllable at a low level.
– Longer braking distances at commonly encountered temperatures, poor directional stability under hard braking.
Michelin Pilot Sport Cup 2 (Connect)
+ surprisingly high wet grip potential for a cup tyre, albeit with a very narrow threshold. High precision and confidence-building drivability at sporty-dynamic speeds.
– Longer braking distances at commonly encountered temperatures, pronounced load-sensitivity with strong oversteer in the wet, poor comfort.