B-Quik opens tyre centre number 193 in Thailand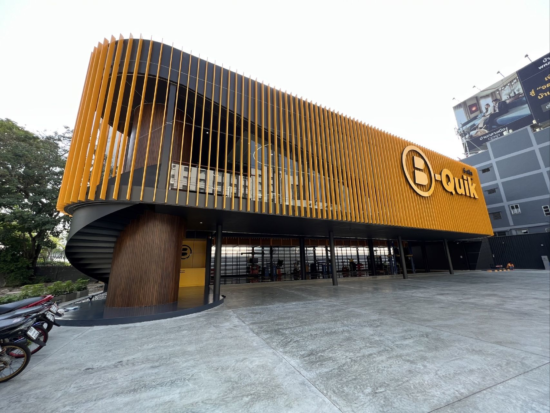 B-Quik opened tyre centre number 193 in Thailand on Friday 25 March 2022 and it is quite a looker. The new Bangkok flagship branch not only features six service bays, but also a café and it is all enclosed in a striking architect-designed structure.
At the start of the year, B-Quik announced that it had broken its growth target of achieving 200 branches in total across Thailand, Indonesia and Cambodia during 2021. At the time, the B-Quik said the 200-branch total included 189 in Thailand. And therefore B-Quik must have opened four stores during the first quarter of 2022.
Commenting on the opening, chief executive Henk Kik said: "We know [how to make] functional stores in bright colours but every now and then it's nice to literally think outside the box. The B-Quik team created an amazing flagship store in close cooperation with A49 Architects. Thanks to you all for making Bangkok more beautiful."