Michelin introduces City Extra for commuter bikes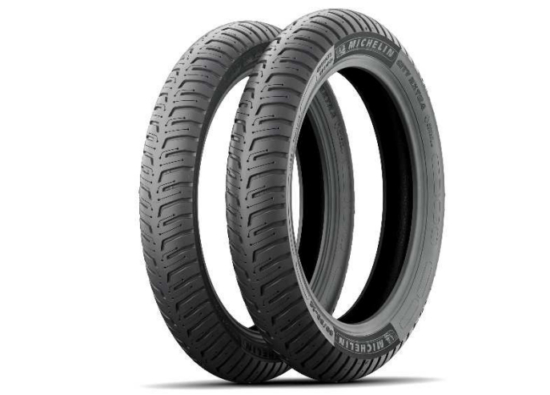 A new Michelin tyre aims to satisfy demand in two-wheeler commuter markets around the world. The Michelin City Extra is available in dimensions that suit scooters, step-throughs and small motorcycles, and replaces both the Michelin City Pro and City Grip Pro ranges.
According to the manufacturer, Michelin City Extra offers ten per cent longer life and 24 per cent better wet grip than the City Pro. It says these improvements in performance were made possible by the new adaptive tread design that Michelin developed for the City Extra. This evolution in tread pattern design resists wear and incorporates Michelin Water Sipes to cut through the film of water on the road surface to find high levels of grip in these difficult conditions.
In addition to improved grip and longevity, Michelin has further optimised the puncture resistant construction seen on the City Pro to provide better durability, and therefore peace of mind for riders during their everyday commutes.
Michelin City Extra will be available from the beginning of 2022 in the following sizes, subject to country/region specifics:
Front
80/100 – 18 M/C 47S
Rear
140/70 – 13 M/C 61S
100/90 – 17 M/C 55S
100/80 – 18 M/C 59S REINF
Front/Rear
100/90 – 10 M/C 61P REINF
90/90 – 10 M/C 50P
3.00 – 10 50J REINF
3.50 – 10 59J REINF
90/90 – 12 M/C 54P
110/70 – 12 M/C 47P
120/70 – 12 M/C 58P REINF
130/70 – 12 M/C 62P REINF
120/70 – 13 M/C 53S
110/70 – 13 M/C 48S
130/70 – 13 M/C 63S REINF
100/90 – 14 M/C 57S REINF
90/90 – 14 M/C 52P REINF
80/90 – 14 M/C 46P REINF
70/90 – 14 M/C 40S REINF
110/80 – 14 M/C 59S REINF
120/80 – 16 M/C 60S
100/80 – 16 M/C 50S
90/80 – 16 M/C 51S REINF
50/100 – 17 M/C 30P REINF
60/90 – 17 M/C 36S REINF
70/90 – 17 M/C 43S REINF
2.25 – 17 38P REINF
2.50 – 17 43P REINF
2.75 – 17 47P REINF
80/90 – 17 M/C 50S REINF
90/80 – 17 M/C 46S
100/90 – 18 M/C 62S REINF
90/90 – 18 M/C 57S REINF
2.75 – 18 48S REINF