Hankook to begin 3rd W Series season as exclusive tyre partner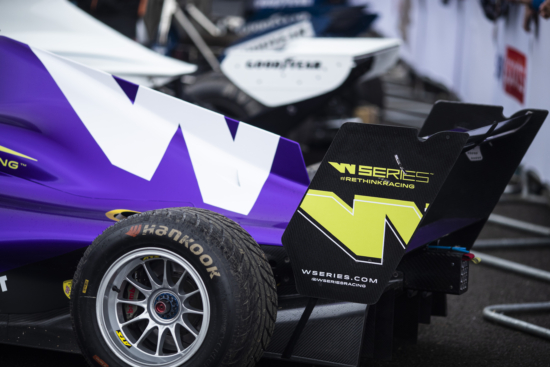 Hankook will supply its Ventus Race tyre to the W Series for the third season in 2022, beginning 6-8 May in Miami, USA. The world's only all-female single-seater series will race on Hankook tyres at eight Formula 1 weekends. The tyre manufacturer has partnered the series since its inaugural season in 2019. Hankook says the series demonstrates its motorsport philosophy of providing targeted support to motor racing drivers – in the case of W Series, this means the opportunity for female racers to gather experience in a professional environment at some historic circuits. It says the consistency and predictability of the Ventus Race, as well as its own support, are a key factor in drivers' development processes.
Five of the eight circuits on the 2022 calendar will be new to the formula series, including Miami, Japan and Mexico. One driver hotly tipped to be in contention for the title in the cockpit of the 270 HP car is Jamie Chadwick. The 23-year-old claimed overall victory in the 2019 debut year, repeating the feat in 2021 after the 2020 season was cancelled due to the pandemic. Six wins from a total of 14 races for the speedy Brit tell their own story, but she has also been immensely consistent and has missed out just twice on a podium finish.
Catherine Bond Muir, CEO, W Series, said: "I'm delighted to announce the continuation of W Series' partnership with Hankook. W Series has made huge steps since its inaugural season in 2019, and as one of our founding partners Hankook has played a significant role in the success of the series. Last season saw some brilliant on-track action in a variety of weather conditions, as we joined the global stage of Formula 1. The momentum behind W Series' mission continues to grow and, with the support of all our partners, 2022 is set to be a very exciting year for us."
Manfred Sandbichler, Hankook motorsport director Europe, added: "We have supported W Series with our Ventus Race since day one, as we were totally convinced by the concept. Therefore, we are delighted to remain the official tyre partner for this unique formula racing series for women. Many of the drivers are familiar with the Ventus Race and know that they can rely one hundred percent on the Hankook race tyre at every circuit. This security helps them to make the most of their talent on the global stage provided by the top-flight Formula 1."