Dunlop supporting teams in 2022 MXGP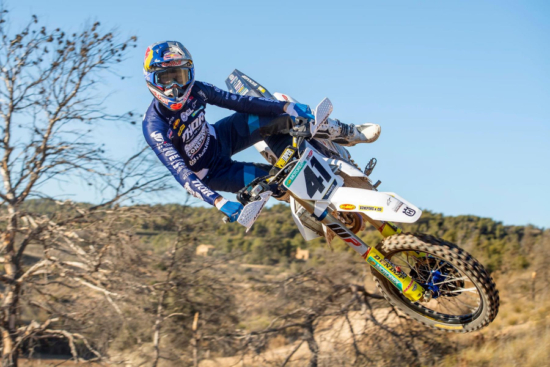 On Sunday 20 February, FIM Motocross World Championship (MXGP) will begin its 2022 campaign at the MXGP of Great Britain in Matterley Basin. From there, the championship will host more than a dozen rounds across Europe and return to a global schedule with races in Argentina and Indonesia for the first time since 2019. Dunlop will once again fight for MXGP victories, supporting top teams and independents alike.
Several teams and riders have chosen Dunlop tyres for the upcoming campaign, which is one of just a few world championships to feature open tyre competition. Dunlop continues its relationship with the Kawasaki Racing Team, now under new management by the IceOne squad. 2015 champion Romain Febvre remains at the team but will miss the opening rounds to injury, so Kawasaki's sole rider at Matterley Basin is new signing Ben Watson. Febvre was a 2021 race winner and championship contender up until the final round, so his return is eagerly awaited by fans as well as the team.
The Standing Construct team has switched to Husqvarna machinery for 2022, keeping Dunlop onboard as its tyres of choice. An unchanged rider line-up of Pauls Jonass and Brian Bogers will fight for wins on the white and blue bikes.
In addition to these two factory teams, Dunlop will also supply tyres to F&H Kawasaki rider Jed Beaton and independent KTM racer Jordi Tixier in the top class. Over in MX2, the second tier of world championship motocross racing, Dunlop are the tyres of choice for a number of riders: Mikkel Haarup and Taylor Hammal (Dixon Kawasaki), Kevin Horgmo (F&H Kawasaki), Kay Karssemakers and Isak Gifting (Hitachi KTM) and Jan Pancar (KTM).
Race-winning potential
"We know both the Kawasaki and Husqvarna teams very well so we have been able to support them in their new-look operations for 2022," comments Eddy Seel, Dunlop's event leader MXGP. "Both factory teams have race-winning potential, and we expect to see Dunlop caps on the podium, although it's a shame that Febvre is sidelined with injury and we wish him a speedy recovery. We're also proud to continue working with a number of independent teams with skilled riders in both MXGP and MX2. After two seasons of a compacted and condensed European calendar, it's exciting to return to a truly global championship in 2022."
A tenth world title?
The FIM Women's Motocross World Championship season will get underway on 5 March, when Dunlop starts its campaign to win a tenth world title. Star rider Courtney Duncan (2019, 2020 and 2021 champion with Dunlop) will again be in contention, alongside 2021 race winner Shana van der Vlist and French champion Amandine Verstappen. The WMX season features six races in Italy, Portugal, Spain, France and Turkey.
Versatile tyres
Dunlop's range of Geomax motocross tyres includes Geomax MX33 for soft to intermediate terrain and MX53 for harder conditions. These two tyres will make up most of Dunlop's tyre offering in the upcoming season, as Seel explains:
"Dunlop Geomax MX33 has an unusually wide scope of applications so it was the base tyre for us at almost every MXGP race last year. We will still use it on most tracks, but we have also been developing a sand tyre that will also offer great performance on mud and softer dirt. As part of our development of our next range of motocross tyres for amateur racers, the top teams have access to development tyres. This supports our motorsport-led development of customer tyres while ensuring our top teams benefit from the latest and most innovative Dunlop technology. We are proud that motocross riders of all levels, including amateur, national and junior classes, can access the same technology as world champions at their local Dunlop dealer."