DLG approval for Continental VF TractorMaster Hybrid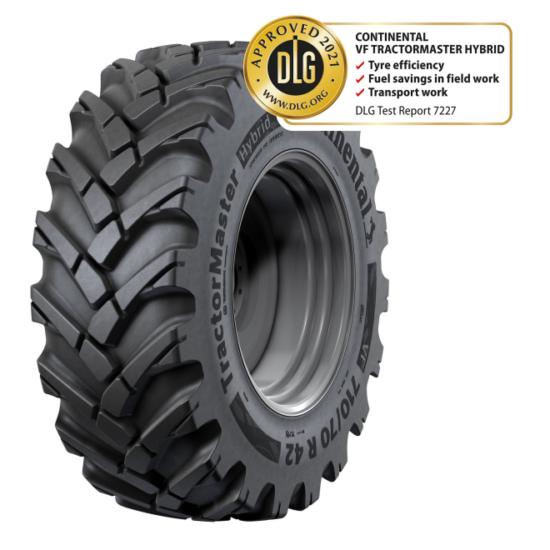 The German Agricultural Society (DLG) awards its 'DLG-Approved' test mark to products that perform well in evaluations to determine performance in specific key areas. Continental submitted its VF TractorMaster Hybrid for DLG testing, and the tyre has now gained said approval.
In its "Efficiency assessment of premium tyres" test series, DLG looked at how agricultural tyres behave in various scenarios. In particular, the association measured the tractive performance and specific fuel consumption of tractors while carrying out field and transport work. Testers worked with three sets of tyres, two of them hybrid tyres that pair the tread pattern of a cleated agricultural tractor (AS) tyre with that of a road tyre, a combination that features a block pattern in the centre of the tread and large lugs on both sides.
In addition to the Continental TractorMaster Hybrid, which was tested in size VF710/70R42 on the rear axle and VF600/70R30 at the front, DLG examined hybrid tyres from an unnamed premium competitor as well as an IF model AS tyre from a "reputable manufacturer." All were fitted to a Fendt 828 Vario for testing.
During field tests, the Continental tyres and the reference hybrid tyres both delivered the maximum tractive performance, but the VF TractorMaster Hybrid had an edge on its competitor when it came to potential fuel savings. On the road, the results were as expected – both hybrid tyres delivered better performance than the AS tyre. DLG considered the Continental and the reference hybrid tyre to be equally good.
According to the DLG, testing showed that "in the prevailing test conditions, the performance of hybrid tyres in general and that of the Continental VF TractorMaster Hybrid in particular is superior to that of a regular AS tyre." The Continental VF TractorMaster Hybrid tyres demonstrated that they are "state-of-the-art technology in the premium tyre segment."
DLG concludes that "in general, the test demonstrated that hybrid tyres offer great savings in terms of fuel costs and labour costs – both in field and transport work."
A valuable investment
Commenting on the test result, Benjamin Hübner, product line manager Agricultural Tires at Continental Commercial Specialty Tires, says: "This result highlights how the new generation of Continental tyres, manufactured at a purpose-built facility in Lousado, Portugal since 2017, are more efficient for a wide range of agricultural work and represent a valuable investment for operators looking for agricultural advantage.
"We are pleased that the test confirmed the premium quality of our tyres," Hübner continues. "As part of our 'Vision 2030' strategy, we aim to further expand our agricultural tyre business. Our VF TractorMaster Hybrid is a good example of how engineering can help agriculture to reduce fuel consumption and the impact of heavy machines on the land."