Prospecs features Hankook tread on 'all-season' trainers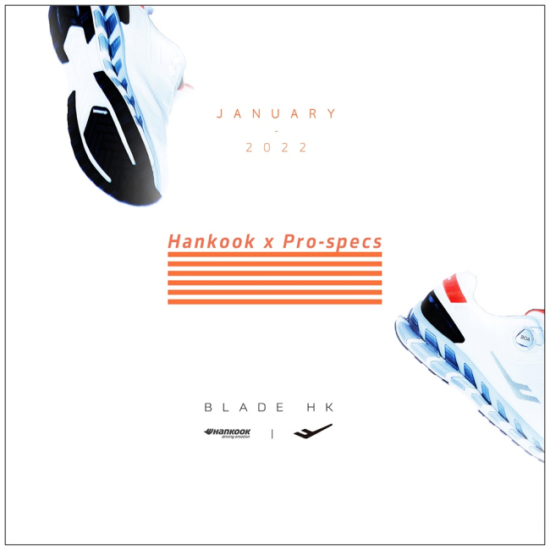 Hankook Tire & Technology is collaborating with Korean sportswear brand Prospecs to release a series of running shoes with enhanced grip in wet and wintry conditions. Prospecs provides this extra traction by utilising the tread pattern from the Hankook Kinergy 4S2 all-season tyre on the trainers' soles.
This partnership between Hankook and Prospecs has resulted in two running shoe models. The Blade HK features the Kinergy 4S2 pattern, while the Airsky HK is resplendent in the tyre maker's corporate colours. Prospecs has produced only 6,500 pairs of these limited-edition shoes, 6,000 of these in the Blade HK design. It is selling the shoes through its retail outlets in South Korea and online shop.
"We are thrilled to apply the best grip and drainage performance of Hankook's iconic product to footwear for the safety of consumers," says Jimmy Kwon, vice-president of Hankook Tire's Brand Lab. "With this, Hankook Tire's 'Driving Emotion' initiative expands to 'Walking Emotion'. We are constantly trying to expand our spirit of innovation with our mission being 'future innovated, innovation realised.'"
The tyre maker says the cross-industry collaboration can offer Millennials and Gen Z who have not yet had an opportunity to use tyres a chance to experience Hankook Tire. This is in line with its ambition to strengthen ties with this demographic. The arrangement with Prospecs is also by no means the first time that Hankook has dabbled in the world of shoes. Last year, the tyre maker shared that it was collaborating with Korean footwear brand Yase to bring out a range of eco-friendly shoes made using recycled tyres, and back in 2015 it presented the fruits of its partnership with Vibram.