Pirelli presents 2022 motorsport plans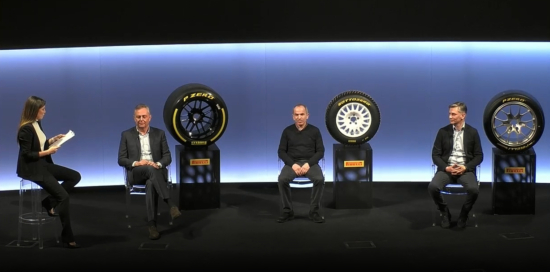 Technology, sustainability and support for young talent – Pirelli states that these are the three cornerstones of its 2022 motorsport campaign. During a live-streamed press conference hosted by Mario Isola, the tyre maker's head of motorsport, supported by rally activity manager Terenzio Testoni and GT circuit activity manager Matteo Braga, Pirelli set out its plans and priorities for the year.
"This year's motorsport season, which gets underway shortly with Rallye Monte-Carlo, marks a turning point for us," commented Mario Isola. "We have new products for all our major championships, starting with Formula 1, which reinforce the close links with our road car product. We're also continuing our mission for increasingly sustainable motorsport, in line with our company strategy, having been awarded an important environmental certification from the FIA at the end of last year. And as always, we look to the future by continuing to support motorsport's brightest up-and-coming talents."
Motorsport has long played an important role in Pirelli's history, with competition being a part of it for the last 115 years of the company's one and a half centuries in business. The first major success came back in 1907, when Prince Scipione Borghese won the gruelling Peking to Paris race with a Pirelli-shod Itala. Today, Pirelli takes part in more than 350 different series all over the world, while 2022 opens up a significant new technical chapter. The Formula 1 World Championship introduces a new 18-inch tyre size, while Pirelli has also created tyres for the latest hybrid formula in the World Rally Championship, not to mention a new range of tyres for all the classes in GT racing.
New tyres & technology
Formula 1: This high-profile championship is about to embark on a technical revolution. Pirelli remarks that it stands at the forefront of this revolution, echoing the days when the championship was first inaugurated in 1950. After more than half a century of racing on 13-inch tyres, the size will now increase to 18 inches, playing a key part in the new technical regulations for 2022, which re-introduce ground effect.
Pirelli designed the new 18-inch tyres from the ground-up, with every element of the tyre drawn from a clean sheet of paper – from the profile to the structure, to the compounds. The design process took in more than 10,000 hours of indoor testing, more than 5,000 hours of simulation, and more than 70 prototypes developed virtually, to eventually create 30 different specifications that were tested by nearly all the teams over more than 12,500 miles. The role of the drivers was crucial, with each of them contributing to the development at various points and helping Pirelli arrive at the definitive specifications thanks to their feedback.
The new tyres have a wider working range than their 13-inch predecessors, without compromising warm-up. As a result, overheating is limited and degradation is reduced. There are additionally new temperatures for the tyre blankets. All the tyres will now be heated up to 70 degrees, rather than 100 degrees at the front and 80 degrees at the rear, as was the case previously. The reduction of tyre blanket temperatures is part of a plan to gradually eliminate tyre blankets over the coming seasons, to help reduce electricity consumption and aid sustainability.
The new 18-inch tyres also more closely resemble the tyres that ordinary motorists use every day, and this helps Pirelli to transfer Formula 1 technology onto road car product.
Rally: Pirelli has also been present in rallying from the very beginning, since the very first World Rally Championship was run in 1973. A major change comes to the WRC this year with the introduction of cars equipped with hybrid engines. Pirelli has evolved its entire range of P Zero, Scorpion and Sottozero tyres to cope with the extra weight and additional power of the new Rally1 formula.
The P Zero for asphalt and Scorpion for gravel gain a reinforced structure and optimised design to accommodate the increased demands placed upon them by the 100 kilograms of extra weight, as well as the increased torque from the electric hybrid units. The studded ice tyre that will make its debut in Sweden benefits form a reinforced structure and improved studs.
Teams first tested the new tyres during sessions held at the end of 2021. Data gathered during winter testing, as well as the information obtained from the rallies held in 2022, will provide additional reference points for any future evolutions of these products, in line with Pirelli's philosophy of continual development.
GT Series: Pirelli has optimised all its knowledge and production processes to create a more streamlined range of tyres, and it has also implemented measures to increase efficiency and stock control.
The new range of tyres, called P Zero DHF, has been designed to cater for every class of GT racing: GT2, GT3 and GT4. The new P Zero DHF takes over from both the DHE that has been used up to now for GT3, as well as the DHB that has been used for GT4. The P Zero DHF makes use of a new family of materials, which guarantee a wider working range – especially in warmer conditions – and a new construction that improves the balance between front and rear. The result, says Pirelli, is increased performance, greater versatility, and a better feeling for the driver.
Pirelli is also offering a renewed range of tyres for the one-make championships it supplies when partnering with car makers such as Ferrari, Lamborghini and McLaren. It says these innovations will benefit not only the drivers in those series, but also owners of similar cars when driving on the road.
Reinforcing the close links between road and track, the Trans-Am series in the United States will swap 16-inch tyres for 18-inch tyres this year.
The Spa 24 Hours will remain Pirelli's biggest and busiest single motorsport event of the season. This event, scheduled for 28 to 31 July 2022, will see the tyre maker dispatch more than 100 people of 13 different nationalities as well as nearly 30 trucks to transport more than 13,000 tyres.
Pirelli states that GT racing represents its "core values" thanks to the collaboration with car manufacturers that allows it to use the lessons learned on the racetrack to develop the latest generation of P Zero ultra-high-performance tyres for the road.
Increasingly sustainable motorsport
During a live link, FIA deputy president for sport Robert Reid, who is also responsible for sustainability, points out that Pirelli is the first and only tyre maker in the world to have scored three stars in the FIA's Environmental Accreditation Programme.
Among the measures Pirelli has undertaken to gain this accolade in Formula 1 is the increased use of renewable materials, the elimination of single-use plastics from on-track activities, and a supply chain that is entirely managed according to environmental and social sustainability practices. Furthermore, Pirelli's motorsport activity has successfully passed a series of rigorous sustainability audits that take into account several different elements to help reduce environmental impact, starting with carbon emissions.
Sustainability was also at the heart of the development of Pirelli's new GT tyre, the P Zero DHF. By extensively using virtual modelling, Pirelli was able to reduce the number of physical prototypes needed. The latest range of DHF tyres includes new types of renewable materials that help Pirelli to reach its ambitious environmental targets, while using the same tyre for different classes means that the impact on the environment is reduced from a logistical point of view.
Examples of Pirelli's environmental sustainability objectives, both in business and manufacturing, include a reduction of overall CO2 emissions by 25 per cent by 2025 (compared to 2015 levels) and a quota equivalent to 100 per cent of electrical energy acquired from renewable sources: an objective that has already been reached for Pirelli's European factories, which includes the motorsport factories in Slatina (Romania) and Izmit (Turkey). When it comes to logistics, Pirelli uses a fleet of the most recent Euro 6D trucks to transport tyres and chooses to send as much freight as possible by sea, which is much less polluting than air freight.
In future, Pirelli's environmental strategy will enable the company – including the motorsport division – to become entirely carbon neutral by 2030, thanks to aggressive plans to replace fossil fuel with 100 per cent renewable energy.
Pirelli is also engaged in research projects to recover valuable materials from motorsport tyres at the end of their lives, and the company is evaluating innovative ideas to extract primary materials from used tyres as they are recycled. To increase the number of tyres involved in this process, Pirelli has started a campaign within the wider world of motorsport to recover all the tyres used internationally throughout a variety of motorsport competitions.
Supporting fresh talent
Helping young, talented drivers develop their skills is another important aspect that has always characterised Pirelli's approach to motorsport, thanks to various programmes in Formula 1 as well as the World Rally Championship, not to mention many other national championships.
In 2022, Pirelli is intensifying its support of young drivers not only through its continued involvement in the Junior WRC – which this year uses four-wheel drive cars for the first time – but also with its backing of the FIA Rally Star programme: a new competition launched and run by the FIA to find new rallying talent among youngsters between 17 and 26. This is an evolution of the Pirelli Star Driver scheme that launched talents such as Ott Tanak and Elfyn Evans, while Craig Breen graduated from another well-known Pirelli-backed initiative to find future rally drivers: the WRC Academy. The young drivers in the Rally Star programme are chosen through a layered selection process based on digital motorsport as well as real driving.
Similar initiatives are in place to help propel promising circuit drivers towards Formula 1 as well. For many years, Pirelli has awarded a cash scholarship to the winning Formula 3 driver, as a helping hand towards the top.
Another important project supported by Pirelli is the FIA Girls on Track programme, designed to promote female drivers and the participation of women in motorsport. Pirelli says it is undertaking this "in the spirit of inclusion and equality," which it says has always been a priority for the company.