Spring launch for 'high mileage' Continental UltraContact summer car tyre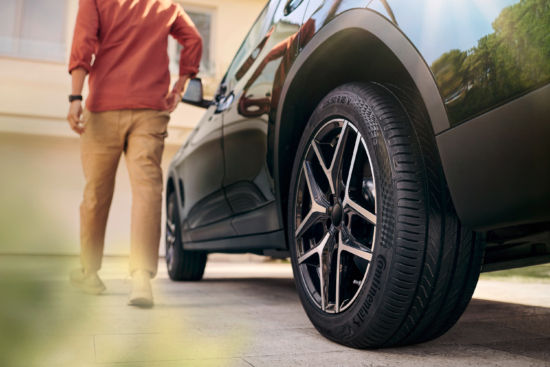 Conti says the initial range of 100 fitments is designed for sustainable motoring, including electric vehicle fitment, with A-B-A/B tyre label grades
Continental will launch its new summer car tyre for 14-20" applications in 100 sizes in spring 2022. The new UltraContact will address the latest trends in mobility with a new compound and tread designed to increase mileage potential, while delivering safe handling characteristics and low rolling resistance. The carcass of the tyre is designed to promote durability too. The Conti UltraContact is designed to offer increased sustainability in motoring and has been engineered to be suitable for fitment on electric vehicles. Conti cites global sales of EVs to hit 14 million annual sales by 2025. Estimates shared with Tyrepress by leading tyre business analyst Astutus Research suggest European demand for plug-in electric vehicle tyres could reach around 40 million tyres by 2025, with roughly half in the replacement market.
Continental says it has designed the tyre to meet the evolution of today's mobile society. The common theme of many rising demands is increased sustainability, Conti says, though younger drivers join older drivers in continuing to want personal mobility. Ownership is a secondary consideration, meaning car sharing and rental cars are increasing in demand; the rise of electric vehicles coalesces with these two trends. As they increase significantly in fleet and end user popularity, the demand for tyres that fit sustainability requirements and ownership models will also increase rapidly. Conti adds that in fleets the vehicles will be on the move much more than in individual use. Tyres that meet these trends "must have a long service life and be robust," it states, "and meet the demand for the greatest possible safety."
Continental UltraContact characteristics
Conti has developed a new rubber compound, YellowChili, to achieve its high mileage target. It is also harder wearing, due to "a special network of durable polymer compounds that ensure less abrasion" compared to other compounds. Conti says the rubber can "respond efficiently to the road surface and effectively interlock with its irregularities providing higher levels of grip."
The UltraContact's tread pattern has also been tuned to reduce abrasion and extend mileage, Conti adds. It contains "a high number of sipes with solid tread ribs," which mean a stiffer pattern that will increase stability, with pressure distributed evenly across the entire contact surface. Put this together with the robust construction Conti has engineered, and the tyre's mileage potential is increased. Conti has improved the longevity further in many of the tyre sizes by equipping the UltraContact with a rim protection rib, which offers additional protection for the bottom area of the sidewall.
While improved sustainability characteristics are the headline for the UltraContact, safety remains paramount in tyre design. Short braking distances, even on wet roads, are among the most important tyre characteristics, Conti states. Therefore, the new UltraContact is equipped with a large number of different slanted sipes ensure good removal of water from the contact surface into the tread grooves and tyre shoulders. This so-called bevel-sipe concept – a bevel is a chamfered surface – accelerates water removal, ensuring short braking distances on wet roads, Conti states.
Ride comfort is strongly associated with low tyre and road noise. Conti states that to reduce noise, small elements – known as "noise breakers" – are introduced into the grooves between the block elements. Like a wave breaker, they reduce noise emission without hindering water removal.
The sidewall also showcases a new design philosophy, Conti adds. The product name is placed opposite the clearly visible dimension specification; a large Continental logo is also shown twice on the sidewall. High-quality design elements can be seen between the logos and the model or size designation. Another new feature is that the product name can also be seen in the tread grooves.
Overall these characteristics give the Conti UltraContact label grades among the best available, with A for wet grip, B for fuel economy and A or B for external noise.
Range specifications
Continental says the UltraContact is "primarily intended for markets where seasonal tyres are not the norm," a description that certainly fits the UK market. Available from spring 2022 in 100 fitments, and more to come next year, the UltraContact is produced for rims between 14 and 20 inches, in widths between 155 and 245 millimeters, and cross sections between 80 and 40 per cent. Depending on the dimension, speed rating approvals are between 190 and 300 km/h. Various models are also available with increased load capacity, Conti adds.