Big names committed to The Tire Cologne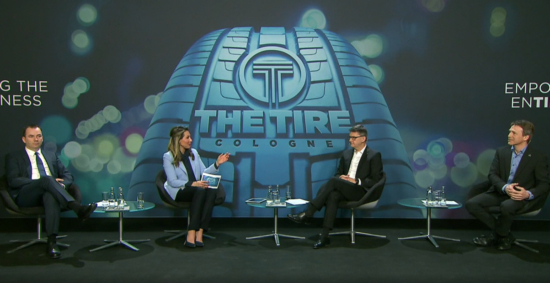 After a four-year absence, The Tire Cologne is preparing to make a comeback in May. Continental, Falken, Hankook, Michelin and Pirelli have already signed up as exhibitors. Show organiser Koelnmesse and conceptual sponsor the German Tyre Retail and Vulcanisation Trade Association (BRV) discussed their plans at a digital press conference this morning.
"Trade fairs are incredibly important right now for getting the various industries back up and running – as a catalyst and driving force," explains Oliver Frese, chief operating officer of Koelnmesse. "We are fully prepared, and our safety and hygiene concepts have already proven successful in autumn 2021, for example at Anuga, which welcomed 4,500 exhibitors and 70,000 visitors. We are looking forward to May and to finally hosting The Tire Cologne once again after its premiere in 2018."
Stephan Helm, chairman of the BRV, also believes the show is highly influential and plays a crucial role in the industry: "We are confident that The Tire Cologne can jolt the industry out of its 'digital fatigue' and that renewed in-person exchange between trade fair visitors on the TTC industry platform will provide the industry with new, positive momentum in what continues to be a challenging market environment."
Most important networking trade fair
In a live statement, Anish Taneja, president and chief executive officer of Michelin Europe North, confirmed that the tyre maker's attendance. "The Tire Cologne is the most important networking trade fair for our B2B business in the Europe North region and beyond. We really value being able to meet with all the key partners and dealers here to discuss important topics such as the future of the tyre and mobility industry, and to exchange ideas and visions. We are particularly looking forward to fruitful talks with our fleet customers and to the possibility of establishing contacts face to face again – of course, in accordance with the applicable hygiene regulations, which we take very seriously."
Additional digital content
Around 300 companies and brands from more than 30 countries are currently expected to present their products and services at The Tire Cologne 2022. "In addition to Michelin, numerous other tyre manufacturers, including Continental, Falken, Hankook and Pirelli, have registered," confirms Ingo Riedeberger, director of the tyre-themed exhibition. Big names are also expected in the services and workshop segments, as well as retreading.
Furthermore, The Tire Cologne is offering digital content via the TTC @home platform. "Curated content from the Tire Stage is streamed live and can be accessed as video on demand even after the trade fair closes. So you won't miss anything – you can always catch up afterwards," explains Riedeberger. The TTC app also allows and supports the establishment of networks and contacts, and also provides a direct method for arranging appointments.
A new feature in the show's event programme is the Boulevard of Sustainability, which is focused on sustainable tyre lifecycle. Conferences such as the Global Retreading Conference provide further information.
The Tire Cologne will take place from 24 to 26 May 2022.