VanContact A/S Ultra – Continental's all-season tyre for delivery drivers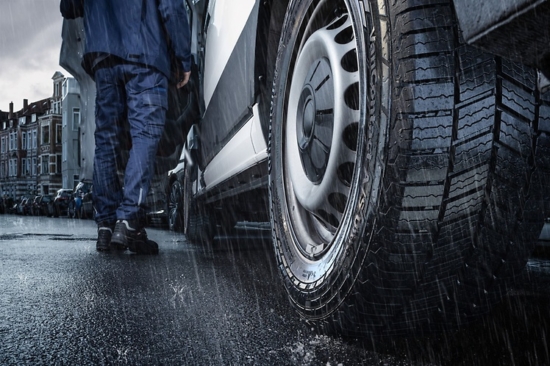 Continental has introduced its latest all-season van tyre. The new VanContact A/S Ultra is available from December 2021 in four dimensions for 16-inch rim diameters and is aimed at vans frequently used for delivery services and trade businesses, such as Mercedes Sprinter, VW Crafter and Fiat Ducato, as well as smaller vans like the Mercedes V-Class and VW T6. Continental will significantly expand the range in 2022 with sizes for 15-, 16- and 17-inch diameters.
VanContact A/S Ultra arrives at a time when mobility needs and practices are changing, driven by expanding urbanisation, electrification and the increase in inner-city and door-to-door deliveries. Vans are also commuting and travelling longer distances more frequently in addition to the customary stop-and-go driving of city use. Continental says it considered these diverse demands when designing its Ultra series of tyres, developing the new range to be robust and durable while offering the safety and rolling resistance performance expected from Continental products.
No trade-off
Continental's engineers developed a new rubber compound, profile and sidewall to achieve the properties demanded by this application. The tyre maker emphasises that the resulting combination of profile design and rubber compound "ensures no trade-off between mileage and rolling resistance as well as wet grip."
The engineers mixed new fillers into the rubber compound to reduce rolling resistance. The compound also contains functionalised polymers to provide high mileage during both summer and winter use.
They also added 'snow traps' – small bars in the tread grooves that improve traction on snow by holding the snow in the grooves. Continental says these snow traps stabilise the profile and contribute to precise handling and high mileage.
Smart 3D sipes – a design that stabilises the tread blocks – are present to provide good grip when driving on snow and wet roads. Continental explains that this design allows the sipes to open wide when rolling into the contact area, with the sipe edges offering high levels of snow grip.
Scuff rib & tread indicator
Kerbing is a phenomenon familiar to drivers of vans operating in urban areas. To combat kerbing-related damage, Continental included a scuff rib around the entire VanContact A/S Ultra sidewall. Its 'brick pattern' protects the sidewall against impact damage and thus contributes to the tyre's robustness.
Last but not least, Continental's engineers have developed a new tread depth indicator for the VanContact A/S Ultra that displays the tyre's remaining tread depth more clearly than the small bars in the grooves. Four groups of figures distributed across the tyre circumference on the tread blocks indicate the remaining tread depth between five, four and three millimetres.