KYB EKS JC Driver Kristoffersson Wins WRX Championship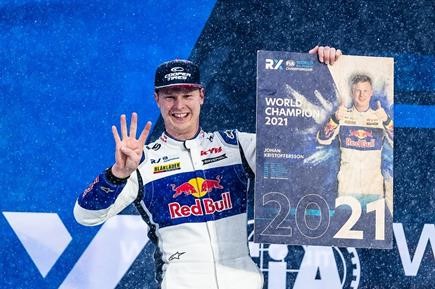 The 2021 World Rallycross Championship has been won by KYB EKS JC driver Johan Kristoffersson, in a dramatic, snowy final weekend of racing at the Nürburgring in Germany.
Swedish driver Kristoffersson started the final weekend in second place, 17 points behind the leader. In a dominant first day he closed the gap to four points. He slowly chipped away at the lead throughout the second day, meaning he only had to finish day two's final ahead of his main rival, which he did.
The top two drivers were tied on points at the end of the final race, Kristoffersson won the Championship owing to the fact he had more race wins this season – a season where KYB EKS JC had to overcome numerous challenges with penalties, punctures and car issues. A third of the way into the season Kristoffersson was a huge 28 points off the lead.
Kristoffersson is the most successful WRX driver to date. This was his fourth World RX Championship and his first season with KYB EKS JC. It cements his place as the most successful driver in this sport's history. Reflecting on his win, he said:
"A fourth championship gold! This feels absolutely incredible. What an achievement by everyone in the team, they have worked really hard this year and constantly continued to believe that we really had the chance to take the title and didn't give up!"
Congratulations to Kristoffersson and special credit to his teammate Enzo Ide, who played a big supporting role across the weekend, finishing his first ever full WRX championship in 6th place. Credit also to the team of engineers, mechanics and support staff. This is the final year that WRX cars will run on traditional internal combustion engines, as from next season it changes to electric vehicles.
The KYB EKS JC Audi S1 Quattro Supercars all use KYB shock absorbers and KYB electronic power steering.