Kwik Fit condemns 25% rise in fly tipping incidents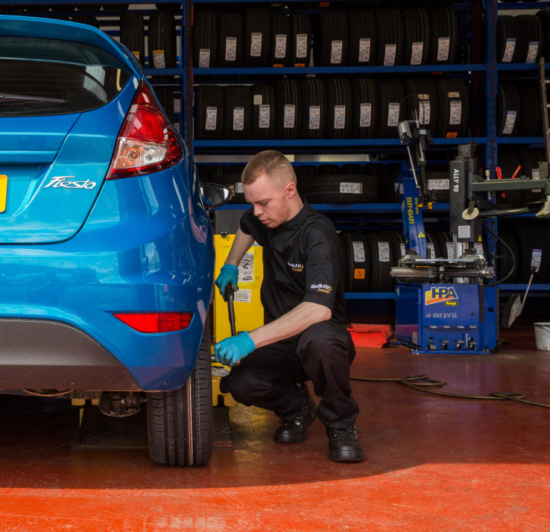 Following up the news that its parent company European Tyre Enterprise Ltd (ETEL) is acquiring leading tyre recycler Murfitts Industries, Kwik Fit shares some statistics that suggest not everyone understands the potential value of end-of-life tyres. According to the automotive parts and tyre network, fly tipping incidents have increased by a quarter in the past year.
Kwik Fit has looked at Defra data published on 8 December 2021 – Flytipping and actions taken in England – and notes that 15,076 fly tipping incidents were reported throughout England in 2020-21, up from 12,076 a year earlier. This is an astonishing jump when remembering that the total number of miles driven dropped 21 per cent during the pandemic, resulting in a lower number of replacement tyres being fitted to vehicles. European Tyre and Rubber Manufacturers Association figures indicate that 14.3 per cent fewer replacement tyres were sold in Britain in 2020 than in the previous year.
In the Northwest region the number of fly tipping incidents rose by 80 per cent, and in the West Midlands by 67 per cent. Kwik Fit's analysis of the Defra data shows that the number of fly tipping incidents fell in only one English region over the last year – the East of England saw a five per cent decrease.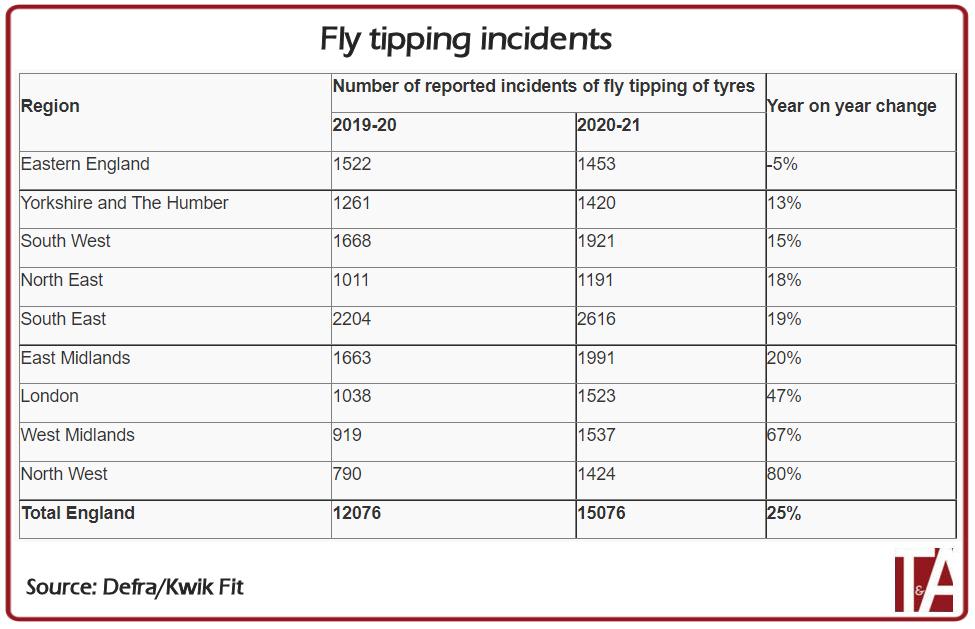 No excuse for fly tipping
Although the past decade had seen a steady reduction in the cases of tyres being illegally dumped, even before the pandemic the figure remained stubbornly high, equivalent to around 35 incidents per day. The figures cannot be directly compared due to changes on reporting methods, but the latest data indicates that around eight years progress has been lost, with incidents during the past year at a similar level to 2012-13.
"There is absolutely no excuse for a tyre to be fly tipped," comments Roger Griggs, communications director at Kwik Fit. "Tyre dealers must ensure that used tyres are dealt with by a registered waste company and those companies have a duty to process them responsibly. Although they need to be covered by a 'waste' licence, used tyres still have value as a raw material and therefore it makes even less sense for them to be fly tipped."
Researching new recovery options
Kwik Fit already works with Murfitts Industries to ensure its customers' tyres are processed responsibly, but now the two companies will be working together even more closely. Murfitts has a national collection network, re-reprocessing end-of-life tyres to recover the materials used in their production and repurpose them to manufacture innovative products. These are used in areas such as sports surfaces, pathways, children's playgrounds, carpet underlay, modified asphalt and many other industrial applications. Its products are exported to markets across the globe.
Murfitts has also been investing in research and development to improve material recovery and reduce the use of natural resources. The company has been developing proprietary pyrolysis technology, a thermochemical process used to decompose the tyre feedstock at high temperatures in a vacuum into various high-value recycled materials such as carbon black and recycled fuel oil. This technology will help support the sustainability initiatives of the tyre industry by replacing one of major raw materials of tyres, carbon black, with a recycled product.
"End of life tyres have significant value remaining in them and it is important to capture and reuse the raw materials wherever possible," says Griggs. "Not only does this prevent them from entering the waste steam, but it reduces the amount of new material that is needed. We encourage all motorists shopping for new tyres to ask what is going to happen to their old tyre and ensure that it is going to be handled responsibly."