Goodyear supporting two Dakar 2022 teams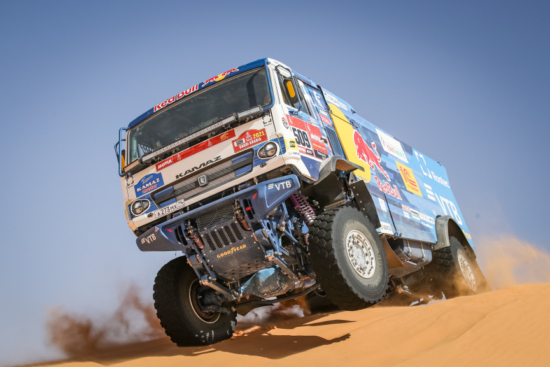 Goodyear has announced the renewal of partnerships to equip tyres for two legendary and heavily titled truck racing teams, Kamaz-master and Petronas Team De Rooy IVECO, at the 2022 edition of the Dakar rally. Both outfits will continue to put their trust in Goodyear's proven Offroad standard tyres for the gruelling competitive trek through the Arabian Desert from 1 to 14 January.
The tyre maker views the event as an integral arena to drive results on the track and in daily transport fleet operations. Kamaz-master won the hotly contested trucks race earlier this year and Goodyear says it is "proud to carry the winning spirit of that affiliation" into the next edition of the Dakar; an event that enables Goodyear's production technologies to master the most extreme driving environments.
Kamaz plans to bring four works entries to the start line at Ha'il with a quartet of top drivers. Defending winner Dmitry Sotnikov, five-time winner Eduard Nikolaev, double winner Andrey Karginov and runner-up the last two years Anton Shibalov will be assisted by strong teams of expert navigators and mechanics.
During the next Dakar the factory-operated Kamaz-master sports trucks will once more rely on Goodyear tyres. Two examples of the new Kamaz-435091 model and two returning Kamaz-43509s represent the team's formidable line-up for its title defence.
Goodyear has also confirmed that its long-standing partnership with the Petronas Team De Rooy Iveco team has been renewed for the 2022, 2023 and 2024 Dakar. Bringing a unique mix of youth and experience, the 2016 winning squad is also aiming to compete at the sharp end of the field. Three new Iveco Powerstar Torpedo trucks will be joined by an Iveco Tracker fast assistance truck for the fortnight-long adventure.
The Dakar trucks departed Marseille on shipping freight to Jeddah at the end of November. They are undergoing preparations in Jeddah before scrutineering for the rally on 29-31 December.
Perfect companion to conquer Dakar
With the Goodyear Offroad tyre, the crews from Kamaz-master and De Rooy will be able to maximise the performance of their vehicles through the scorching desert, vertigo-inducing sand dunes and dusty tracks that make up the more than 5,000-mile Dakar course comprising about 2,700 miles in special stages.
"All teams have to compete on standard tyres as per ASO," comments Maciej Szymanski, director of marketing for Commercial Business Europe at Goodyear. "The Goodyear Offroad range is used in construction, military and emergency applications. It's tread rubber and design resists cutting and chunking in harsh off-road operations and at the same time is capable of cool running in high temperatures.
"With its excellent traction on all terrains, it is a perfect companion to conquer the challenging Dakar route full of unexpected events. It's an honour to be selected as exclusive tyre partner by two legendary teams. We definitely share their passion to drive results every day again and look forward to support these eight trucks, while the teams give their best to be on the podium."