Goodyear launches Eagle F1 Asymmetric 6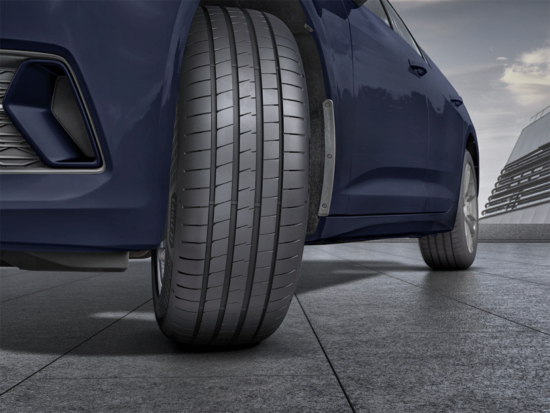 The latest iteration of the Goodyear Eagle F1 ultra-high-performance tyre range will arrive early next year. Goodyear will initially launch the Eagle F1 Asymmetric 6 in 28 sizes during the first quarter of 2022, including a number of popular 17- and 18-inch fitments, and then release additional dimensions throughout the year. By 2023, Eagle F1 Asymmetric 6 will be available in no fewer than 65 sizes for 17- to 22-inch rim diameters.
Designed to suit a wide range of cars, including hot hatches, sporty compacts, family cars, luxury saloons and sports coupes, Goodyear Eagle F1 Asymmetric 6 features a number of innovations to build on the previous-generation product. Goodyear says the result is a tyre "designed to both reassure drivers with its wet braking and handling abilities and thrill them with its outstanding dry performance and sporty credentials."
Improved wet & dry performance
Goodyear's testing (using size 225/45R17 tyres) indicates that the Eagle F1 Asymmetric 6 offers superior dry performance than its predecessor. The new tyre features an adaptive contact patch and optimised cavity to adapt to load variations. Goodyear explains that while under standard driving conditions, the tyre's contact patch has a normal footprint, but this increases when the driver makes an extreme manoeuvre. The contact area therefore adapts to the driving style and increases as needed, giving the driver more grip and reactivity to extreme manoeuvres.
The same internal testing also points to improved grip on damp or wet roads compared with the Asymmetric 5, a performance upgrade that Goodyear attributes to the cap compound it uses for the Eagle F1 Asymmetric 6; this features a new resin system that gives the tyre more micro-contact with the road surface. The tyre maker also transferred UUHP tyre technology to the Eagle F1 Asymmetric 6 in order to increase its flexibility to match or be more resistant to road roughness.
Designed with EV requirements in mind
Goodyear says that while every tyre in its range is EV-ready, it specifically designed Eagle F1 Asymmetric 6 with manufacturers' EV requirements in mind. A noise cancelling pattern results in a tyre that's 1dB quieter than the last-generation model, while new compound technology facilitates a generational reduction in rolling resistance.
"Eagle F1 Asymmetric 6 is the latest in our award-winning range of Eagle F1 tyres," says Laurent Colantonio, Goodyear's regional technology director EMEA. "With key innovations to improve dry performance and wet braking and handling, it is ready for the most demanding performance, simultaneously reassuring and thrilling drivers. We at Goodyear are proud to work with leading OEMs to push forward the next generation of mobility; that's why Eagle F1 Asymmetric 6 suits the requirements of electric vehicles and is ready to take electric mobility further."