'The online tyre market has moved on two or three years' – MTS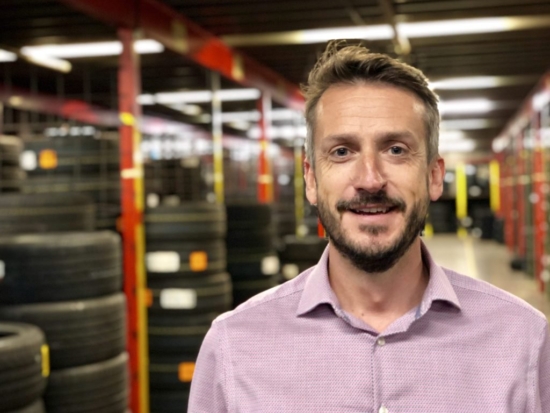 With multiple sources suggesting that the online tyre business broke new ground during 2020, but with data illustrating that trend less easy to come by, Tyres & Accessories caught up with Micheldever Tyre Services (MTS) wholesale director Graham Mitchell in order to get a leading tyre wholesaler's perspective. Starting by setting the company's recent online tyre business performance into the context of its recent history, our interview looks to the future of the online tyre business and touches on the importance of search engine marketing in the tyre trade.
Tyres & Accessories: How big was the MTS network's online tyre retail market share before the pandemic (2019)?
Graham Mitchell: From a wholesale perspective, in 2019 TyreClick – MTS's dedicated tyre selling platform used by 900 dealers across the network – accounted for 3.3 million visitors and 150,000 tyres.
T&A: How did it change during the pandemic (2020)?
GM: During 2020, visitors to the TyreClick site totalled 5.5 million, a 66 per cent increase compared to 2019, while sales were up nearly 25 per cent, compared to 2019. With a number of dealers shut down during the first lockdown, it's quite clear from these significant increases that during the COVID peak, consumers were increasingly turning to online platforms to order their tyres.
From a TyreClick perspective, the increase in web traffic and sales, has been boosted by MTS's Safe Serve Pledge. An initiative which dealers could sign up to during the first lockdown, it allows them to communicate to their customers the COVID19 secure measures they have in place. In doing so, it provides a clear and reassuring message that the safety of both their staff and customers is a top priority.
It's also interesting to note that in 2020, orders via TyreClick accounted for a larger percentage of our total sales to the same dealers. At its peak in August 12.75 per cent of sales came through TyreClick, versus 2021 where the mix peaked in February at 12.67 per cent, but is now running slightly below that figure, the key driver seeming to be less tyre searches on Google (see page 20 for more on the importance of search engine marketing in the tyre business).
T&A: How would you described MTS online tyre business performance now (in 2021)?
GM: During 2021, whilst we have had some lockdowns, the vast majority of our dealers have remained open throughout and orders in the first seven months are up across the board. This has been driven by a small increase in visitors and a significant jump in conversion.
T&A: And what are Micheldever's projections for the future?
GM: We believe the online market has moved forward two or three years during the pandemic. We expect to see growth continue, but at a much more modest level, as the online format goes through a period of consolidation. However, the digital channel will continue to grow, driven in particular by the fact that consumers have during the last 18 months become a lot more used to ordering high street retail items online.
It's also worth considering that while there is this marked change in online consumer behaviour, online tyre purchasing does still only represent around 12 per cent of all tyre sales. It still has a lot to do to catch up with in-store retail, but with the growth experienced during the lockdown, we expect the gap between online and offline retail to continue to narrow in the upcoming years.
Recognising this growth, as a business we will continue to invest in both the TyreClick platform, to ensure that it remains the best in class, and more importantly to invest in resources to help and support our customers develop their online offering.
This means not just having a website, but ensuring that content is continually updated, that businesses have an active presence on social media and dealers manage their reputation via online reviews.
T&A: How do independents make the most of the move towards online? Should they fear big national players with online presence or large pure play online retailers?
GM: While most of the general public have an online presence, being a business online is a very different proposition. The core requirement for an independent dealer is a good partner supplier, who can help them not only understand the importance of being online, but moreover help them to develop their online presence and reputation.
If they have a good partner, then they have nothing to fear from the national online players as there is clear evidence that being local and a core part of your community – which independent dealers are – has become increasingly important during the COVID crisis.
As such the average independent dealer, with a strong online presence, has a big advantage over the national chains.
TyreClick traffic up 66% in 2020
T&A: How can independents market effectively online?
GM: Once again, it is about having a partner supplier to support them. For instance, with TyreClick not only are we continually investing in the platform to ensure that we have the best in market proposition, but more importantly we invest in independent market research to ensure the customer journey is as simple and intuitive as it can be.
We also offer our customers access to supplier paid promotions and give help and advice on content creation to ensure the individual customer website is optimised from a SEO perspective, ensuring they appear at the top in natural searches [again, see page 20 and the Online Tyre Business feature's leading article for further details relating to search engine optimisation and the tyre trade].
We also ensure dealers have access to third party agencies that can not only help them with their social media profile, but also ensure all external directories are fully optimised with the correct customer information. This helps to increase their ranking on Google and other similar search engines.
While the details relate to MTS's particular experience of the last couple of years, the suggestion that a significant movement towards online purchasing has taken place is in accord with the experiences relayed to Tyres & Accessories by a number of sources. And the MTS's suggestions that its online traffic surged 66 per cent in 2020 and 12 per cent of overall tyre sales are now done online are both important waypoints in understanding the current make-up of the retail space. The experience of our consumer-facing WhatTyre.com tyre news and product comparison website confirms both trends, with WhatTyre's traffic up nearly 300 per cent during 2021. But that product focuses on the pre-sale research space. If Micheldever's experience of end-user retail demand us up and if pre-sale research traffic is also up on its pre-pandemic rates (when it was already 60 to 80 per cent depending on which source is consulted), 12 per cent online tyre business looks to be a conservative calculation. What is clear is that, whether online retail market share continues to grow at its present rate or not, the role of the Internet in pre-sale influence as well as at the point of sale continues to grow and tyre dealers need to fully engage with this trend.