Pyrum to supply Continental from expanded pyrolysis plant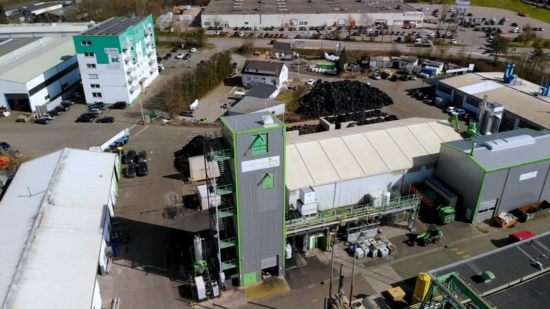 German end-of-life tyre recycling specialist Pyrum Innovations AG has started expanding production capacity within the pyrolysis plant at its headquarters site in Dillingen, Saarland. The expansion will add two further production lines to the single line that's been operating since May 2020 and has to date produced pyrolysis oil, recovered carbon black (rCB) and pyrolysis gas from more than 7,000 tonnes of waste tyres.
Pyrum says the additional lines will treble processing capacity to approximately 20,000 tonnes per annum. It has already begun excavation work for the foundations has already begun and ordered key components of the new plants on a binding basis.
"With the groundbreaking for the new production lines, we are fully on track with our growth strategy and are making further progress towards a sustainable circular economy," comments Pascal Klein, chief executive officer and founder of Pyrum Innovations AG. "The two new reactors will help us considerably to meet the high demand for our products from our partners, including BASF, Continental and Schwalbe."
Achieving a sustainable circular economy
In addition to the existing pyrolysis reactor, Pyrum is building two further 25-metre tall towers. The reactors utilise the company's patented technology to convert rubber granulate from end-of-life tyres into pyrolysis oil, gas, and recovered carbon black, which Pyrum's customers use as raw materials in their production.
A combined heat and power plant enables Pyrum to generate energy required for the process from recovered gas, enabling it to operate a 100 per cent energy self-sufficient pyrolysis process. Likewise, up to 98 per cent of the CO2 emissions normally produced during the disposal of end-of-life tyres in a cement plant are avoided. Pyrum's stated goal is to make an "important contribution to achieving a sustainable circular economy."
Continental, BASF invest
The expansion of the Dillingen site follows Pyrum's stock exchange debut and related investments, including from major German tyre maker Continental.
The company announced late in August that it was "in discussions" with Continental regarding a strategic partnership with a view to supplying rCB for Continental's tyre production and to establish a full circular economy concept. These talks resulted in Continental Reifen Deutschland GmbH investing during the Pyrum Innovations AG private placement prior to its start of trading on Euronext Growth Oslo. Together with two other companies which injected a total of NOK 63 million (£5.5 million), Continental became a "cornerstone investor" in Pyrum.
The following month, Pyrum gained a further investor, with BASF SE bringing in 16 million euros to obtain a 7.9 per cent stake in the firm. BASF says it will uptake most of the pyrolysis oil resulting from Pyrum's two additional production lines and process it into new chemical products by using a mass balance approach as part of its 'ChemCycling' project.
BASF also intends to support the further roll out of Pyrum's technology, including the establishment of additional tyre pyrolysis plants together with interested partners. It anticipates that Pyrum could build up production capacities of up to 100,000 tonnes of pyrolysis oil derived from waste tyres within the coming years together with additional partners. "After twelve years of hard work Pyrum is proud to finally be accepted by the market. We are confident that we will become one of the market leaders in tyre recycling with BASF's investment," says Pascal Klein. "We can finally increase our tyre recycling and oil production capacity and concentrate our efforts on making our technology even more performant."