NTAW gains Michelin retreading capability via Black Rubber acquisition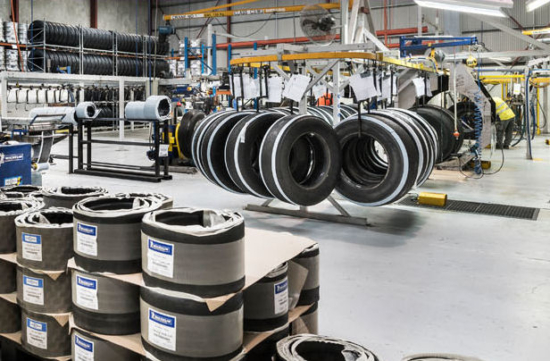 Australian tyre wholesaler National Tyre & Wheel Limited (NTAW) has signed the necessary paperwork for its acquisition of Black Rubber Pty Ltd and Black Rubber Sydney Pty Limited. The transaction, which took place yesterday and is valued at AU$26.3 million (£14.5 million), brings Black Rubber's import and retreading businesses into the NTAW fold.
NTAW imports and wholesales tyres and wheels in Australia, New Zealand and South Africa. The products it distributes cover almost all vehicle types and distribution channels, including truck and bus tyres. the company decided to acquire Black Rubber as many of its truck fleet customers prefer to deal with suppliers who can offer an expansive range of products and services covering, amongst other things, pricing based on a cents per kilometre solution, tyre performance monitoring, fitting at customer depots and retreading.
Not only will NTAW benefit from Black Rubber's tyre import and retail operation in Western Australia, Queensland and New South Wales, it also gains access to a retreading plant in each of these states. NTAW anticipates that ownership of three retreading facilities will deliver a boost to the company's sustainability credentials. "This is a strategically important extension of NTAW's capabilities, with this market segment expected to grow as demand for recycled products increases," comments NTAW.
Michelin retreading to continue – but not exclusively
Black Rubber's retread factories apply know how and use materials supplied by Michelin, having been authorised to use Michelin retread technologies in its pre-cure retreading operation for the past seven years. It operates three of the four retreading facilities in Australia authorised to use Michelin materials, and NTAW confirms that the "techniques and the longstanding and mutually beneficial relationship between Black Rubber and Michelin is expected to continue."
Furthermore, NTAW reports that Black Rubber's retread production plants presently have available excess production capacity; this will accommodate expected future growth. NTAW also intends to begin using other tread materials in the plants in addition to those supplied by Michelin, thereby providing "further manufacturing flexibility and opportunities."
Significant step towards greater sustainability
Black Rubber was established by John Zelesco and Jim Raffa in 2013. Like the other founders of NTAW business units, Zelesco and Raffa are tyre industry veterans with a history of contributing to growth in large established companies, as well as successful entrepreneurship in their own companies. Zelesco will continue to serve as chief executive officer and a director of Black Rubber, while Raffa will remain involved as a consultant.
"We see great opportunity to grow the Black Rubber business as part of the NTAW Group," says John Zelesco. "We are very strong on delivering value adding services to commercial customers and retread manufacturing, but we need a national footprint and other resources to grow substantially beyond WA. Access to NTAW's national footprint and shared services will provide the impetus we need to achieve that growth."
"John, Jim and their team have built a great business with shared principles and a complementary culture – focusing on a growing market segment and delivering outstanding customer service through innovation and expertise," adds Peter Ludemann, chief executive officer of NTAW. "Tyre retreading will fill a gap in our product portfolio and we look forward to offering this important category to our customers. It is also a significant step in our ongoing mission to be a more sustainable entity."
NTAW expects the acquisition of Black Rubber will increase its annualised sales revenue to approximately $520 million (£285.8 million). The forecast additional EBITDA of $5.5 million would result in NTAW's net profit after tax and before amortisation increasing by $3.1 million.