Hankook Tire: Global issues affect Q3 2021 sales, profit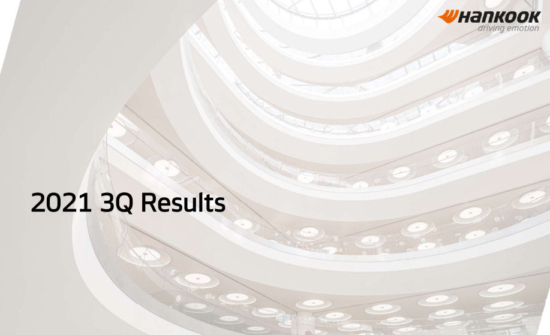 Consolidated sales and operating profit may have been down year-on-year during the three months to 30 September 2021, but Hankook Tire was nonetheless pleased to experience "qualitative growth" during the quarter.
Consolidated global sales decreased by 3.0 per cent in Q3 2021, to KRW 1,886 billion (£1.17 billion), whilst operating profit declined 19.5 per cent, to KRW 224 billion (£139.06 million). Hankook Tire points out that these results reflect the global slowdown in vehicle production due to the shortage of semiconductors and other key parts, as well as the global supply chain crisis and the rising cost of raw materials.
In spite of these lower year-on-year results, the tyre maker believes it "delivered a meaningful quarter" having demonstrated further recovery from Q2 2021, with global sales rising 1.3 per cent quarter-on-quarter thanks to continued market demand for replacement tyres.
18+ sales head north
The aforementioned qualitative growth refers to a rise in global sales of tyres within the 18-inch rim diameter and larger size range. These now account for 36.4 per cent of total passenger car tyre sales, a year-on-year increase of 2.4 per cent. Hankook Tire credits its "top-tier quality management and competitiveness" for leading this achievement.
Sales of tyres within the 18+ size range were particularly strong in a number of major markets: The company saw their share reach 43.4 per cent of the total in China, a 9.8 per cent year-on-year increase. The increase in Europe was a more modest 3.6 per cent year-on-year growth, to 25.7 per cent.
Ongoing issues will burden profits
Looking ahead to the final quarter of 2021, Hankook Tire is prepared for increasing uncertainties due to the ongoing components shortage, supply chain issues and potential energy crisis, as well as concerns that Covid-19 may cause further complications. The tyre maker plans to implement further price increases during the quarter but nevertheless expects that surging raw material, logistics and energy costs will "continue to burden" profits during the period.
The company has achieved year-to-date sales of KRW 5,252.6 billion (£3.26 billion), which suggests it is on track to achieve its annual sales target of KRW 7 trillion (£4.35 billion).