F1 chief Domenicali visits Pirelli's Circuito Panamericano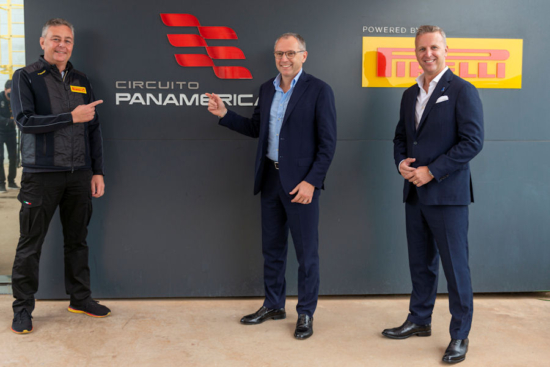 Pirelli has welcomed the president and chief executive officer of Formula 1 to Circuito Panamericano, the tyre maker's most advanced proving ground. Stefano Domenicali is currently visiting the region to attend this weekend's Brazilian Grand Prix, and during yesterday's tour of the facility was accompanied by Mario Isola, Pirelli's head of F1 and Car Racing, and Cesar Martin Alarcon, Pirelli's chief executive officer and executive vice-president of the LatAm region.
"Pirelli is a highly valued technical partner of Formula 1 who do an incredible job for the sport over the whole season," commented Domenicali. "It was fascinating to visit the Circuito Panamericano, a very technological track where Pirelli tests road car tyres, making the most of its expertise learned on the F1 track. Today I got the chance to learn how the sporting activity in F1 has a direct relevance to the tyres we all drive on the road every day."
Mario Isola said it was "a pleasure to host Stefano Domenicali" at the largest multi-track complex in Latin America and to "show him the close relationship between the continual development of race tyres and our road tyres."
Cutting-edge tyre testing facilities
For a number of years, Pirelli has been the market leader in Brazil – the biggest country in South America – with a long-standing industrial presence, including several factories. A key part of Pirelli's stake in the country has been its investment in the Circuito Panamericano, which is now Pirelli's most sophisticated test facility. The track is the latest addition to Pirelli's proving ground facilities, following on from the company's historic site at Vizzola Ticino in Italy and the Sottozero Centre in Sweden. These all form a key part of Pirelli's research and development department, which includes 12 local working units all over the world with a total of almost 2,000 employees.
With seven possible track configurations totalling around 14 miles, Circuito Panamericano, located close to Sao Paulo and Pirelli's Campinas factory, offers cutting-edge technology for advanced tyre testing. This includes facilities for dry and wet handling as well as off-road performance. In total, 15 different types of test can be carried out at the same time, and the circuit is also used for driver training, product launches, and filming.
The dry handling track was constructed by renowned Italian circuit architects Studio Dromo, who have also been responsible for building or remodelling many of the tracks currently seen on the Formula 1 calendar, most recently Zandvoort in Holland.
The circuit has already hosted tests for stock cars and Formula 3 alongside its main role of developing tyres for road use, highlighting Pirelli's traditionally close relationship between track and road regarding tyre development.
Motorsport and R&D
Pirelli has invested 90 million Brazilian reals (£12.3 million) in the Circuito Panamericano and says this underlines the company's reputation as a tyre manufacturer that "puts the most back into research and development through motorsport: a real open-air laboratory, where the lessons learned on the track eventually filter down to everyday tyres seen on the road." Motorsport is also a focus that Pirelli has in common with all key supercar manufacturers, with the Italian firm supplying one out of every two new supercars with original equipment.