Corghi Proadas calibration system added to servicing equipment range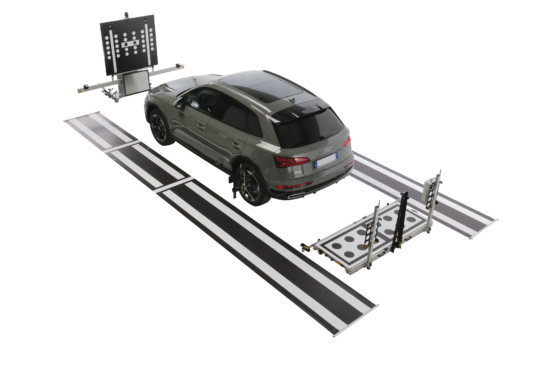 Recognising the proliferation of ADAS within the car parc and the servicing demand it brings, Corghi has expanded its product range, with the release of the Proadas. The new product enables the calibration of safety-critical front sensors such as camera, radar and lidar, and targets businesses ready to enter ADAS servicing with an "easy to use" solution. The Corghi Proadas is available in the UK via distributor Rema Tip Top and is compatible with most equipment produced by the brand's parent company, the Nexion group.
Corghi developed Proadas as a universal system to check and calibrate advanced driver assistance systems of multibrand vehicles. The company says the equipment fulfils the needs of a variety of different workshops. It developed the Proadas system to be easy to use, accurate, and with ergonomics to boost its versatility, making it suitable for workshops with different levels of existing equipment, such as wheel aligners. It targets professional tyre and wheel servicers, while also applicable to other sites requiring ADAS recalibration services, such as body shops or windshield repairers.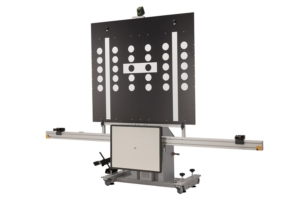 The Corghi Proadas offers a variety of benefits, including strong compatibility, both with passenger car and commercial vehicles, and with existing workshop equipment, like lifts or other levelled test bays.
The Proadas software takes into account vehicle positioning, offsetting readings accordingly. ADAS calibration has strong synergy with wheel alignment services, so Proadas has been designed for compatibility with Corghi wheel aligners; the Proadas streamlines the natural workflow of a garage by allowing the ADAS recalibration procedure to use its CCD wheel aligner sensors following a vehicle wheel alignment procedure. The Proadas also features an ergonomic working position, needs only a single operator, and conforms to vehicle manufacturer procedures.
Servicing transparency, vital in any safety-critical servicing procedure, is aided by the generation of a complete print report. This includes, workshop and Driver information, the input and output status of the vehicle, Proadas positioning data, the ADAS calibration result, and camber and toe value. The Proadas system is also designed for efficiency; its software checks for the presence of ADAS sensors and transfers vehicle information to the Proadas software via wifi. This automated process helps to avoid time wasted by the operator in selecting the vehicle from a database.
ADAS recalibration is highly synergetic with wheel alignment because the system inputs are influenced by the vehicle's alignment in relation to the toein and thrust angle. The prerequisite for ADAS calibration is that the vehicle and the ADAS calibration panel are perfectly aligned. But many other repair procedures also require extra care to be taken; if a camera or radar sensor is moved from its holder, it must be recalibrated following the manufacturer's procedures, as false readings can lead to false de/activation of ADAS.
Corghi R.E.M.O. 4C
Corghi's 2019 launched R.E.M.O. 4C aligner, one of the latest pieces of Corghi alignment machinery available from Rema Tip Top UK, offers one of the brand's most in-depth alignment processes. The system allows data collection on any type of rim without the need to adapt clamps and other accessories to the wheel as a result of its "Robotic Equipment for Measuring by Optics" (R.E.M.O.) technology. With no contact with the wheel, technicians' time in preparing the vehicle is saved, while the chance of rim damage is eliminated. No pre-adjustment is necessary for any type of car or van, Corghi says. It does not need any special installation work, compatible with lifts and pits. Th 4C's self-adaptive wheelbase is made up of four robotised units, which automatically position themselves in front of the wheels in the optimal position for better measurement precision.
The 4C uses True-Live Data technology to collect data from both axles in real time, without the need to refresh the rear axle. Data is collected without the presence of an operator, meaning technicians are free to complete other tasks or to offer other products and services to the customer. The machine also helps technicians to keep customers informed with pre-check functions providing immediate diagnostics and work to be performed. Four robotised units can complete these checks very quickly – this helps garages to decide how to proceed with the customer as quickly as possible.