Pirelli releases 10" & 12" competition range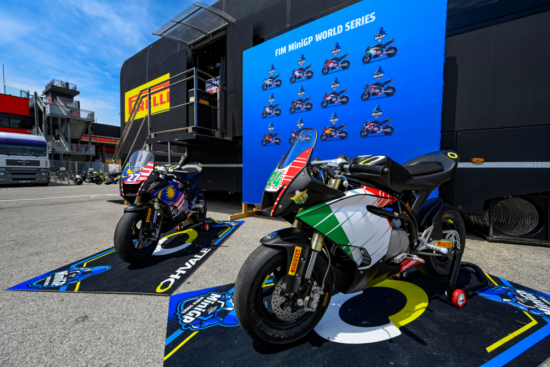 The FIM MiniGP World Series was launched earlier this year as the "newest path on the Road to MotoGP" and to serve as an umbrella for the various national, regional and continental MiniGP competitions, such as the FIM MiniGP UK Series. Through its partnership with FIM, Dorna Sports S.L. and Ohvale, Pirelli serves as sole tyre supplier, and to equip these bikes the tyre maker has presented its first NHS competition range dedicated to small motorcycles with 10- and 12-inch wheels, such as pitbikes, minimotards and scooters.
The new range includes both the Diablo Superbike slick solutions and the Diablo Rain grooved tyre to be used in wet conditions.
Diablo Superbike
Thanks to the soft SC1 compound used across the range, Diablo Superbike offers versatility in terms of operating conditions, such as temperature and asphalt, and type of application, from training sessions to club and professional racing. Pirelli's engineers specifically developed the cross-ply structure of the Diablo Superbike 10- and 12-inch range to suit the characteristics of the bikes the tyres are intended for, to facilitate quick change in direction and maintain reference performance in a wide range of operating conditions.
The profile has also been developed to obtain the best performance from the 10- and 12-inch motorcycles in racing conditions. Compared to the grooved Diablo Rosso Scooter SC, the front and rear profiles of Diablo Superbike tyres have a double-radius profile that guarantees easy handling and a feeling of control while cornering, thanks to the greater contact area between the tyre and the asphalt.
Diablo Superbike sizes:
100/80 – 10 NHS TL Front SC1
120/80 – 10 NHS TL Rear SC1
100/90 – 12 NHS TL Front SC1
120/80 – 12 NHS TL Rear SC1
Diablo Rain
Diablo Rain has a design with a different orientation between the grooves in the central area, which allow for a more homogeneous wear and greater stability of the tread, and those on the shoulder, which improve water evacuation and, consequently, the grip during full lean and corner exit.
All the sizes of the new Diablo Rain range are SCR1, a compound with a high silica content that has been constantly improved over the years thanks to the work carried out by Pirelli on the circuits of international and national championships around the world. The development of this compound has been particularly oriented to increase its performance and versatility, so that riders can obtain with a single solution the best performance possible, regardless of the different operating conditions that may be encountered during the racing season.
Diablo Rain sizes:
100/80 – 10 NHS TL Front SCR1
120/80 – 10 NHS TL Rear SCR1
100/90 – 12 NHS TL Front SCR1
120/80 – 12 NHS TL Rear SCR1