Nexen and Harry Redknapp Stevenage Starlets with new football kit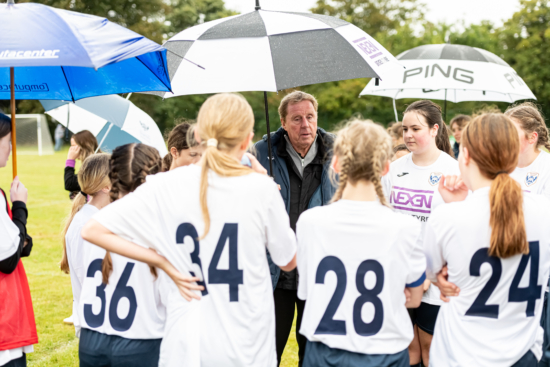 Stevenage Starlets' under 14 team were recently presented with a new football kit by Harry Redknapp after winning a Nexen Tyre UK competition. Unbeknownst to them not only did they win Nexen-branded sportswear, well-known football manager, sporting pundit and King of the Jungle 2018 was also on-hand to make the presentation and help kick off the game with a pre-match team talk.
"It was fantastic to see so many people getting involved and giving up their Saturday, I loved the enthusiasm" commented Nexen Tyre UK Brand Ambassador, Harry Redknapp. "Stevenage Starlets are a great group of people and the level of football being played was brilliant!" Since joining the brand, Redknapp has supported many of Nexen's initiatives, including the creation of bespoke videos for the Stapleton's customers who are part of the Nexen Key Dealer programme.
The Facebook giveaway that kicked off the whole story was open to all under 16's grassroots football teams. Stevenage Starlets were the lucky winners following several nominations on social media that put the odds in their favour when the club was randomly selected in the prize draw.
"Grassroots sport is powerful – it brings communities together and provides a sense of belonging", commented Stapleton's head of marketing, James Whishaw. "Here at Stapleton's, we value our community relationships and were delighted to award a grassroots team a brand-new football kit thanks to Nexen Tyre UK."
Stevenage Starlets Football Club chairman, Paul Manning thanked Stapleton's and Nexen for the incredible experience: "To win a kit in a competition is one thing, but to create that level of excitement around the club was great to see. The generosity with the kit, time on a weekend and arranging a celebrity to visit to present it and coach the girls has created some special memories."