Continental turns 150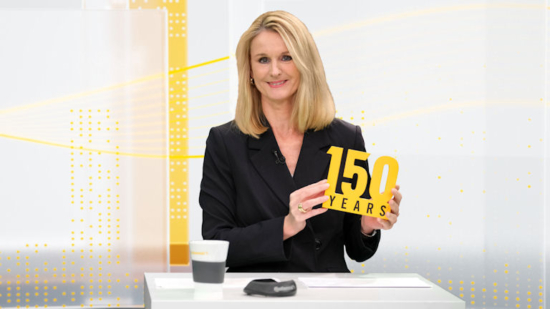 Happy birthday, Continental. The German tyre maker and technology company is 150 years old today, making it one of the oldest companies both in Germany and within the automotive business. One and a half centuries after starting out as a maker of rubber products for horse-drawn vehicles, the firm still specialises in the latest modes of transport and is positioning itself to meet future challenges.
"For 150 years, we have played a decisive role in shaping and advancing mobility worldwide," says Nikolai Setzer, chief executive officer of Continental. "Our entire history has been marked by many challenges but – crucially – with plenty of success and sustainable growth, too. This has given us experience and kept us fresh and agile in our thinking. We are proud of our 150-year history and can look ahead with optimism and confidence because we have shown that we can transform. That's the driving force behind our success."
Dr Ariane Reinhart, board member for HR and Sustainability, adds that Continental has "reinvented itself time and time again" over the past 150 years while navigating difficult periods by drawing upon the company's "strength and creativity" and by viewing change as a "challenge that opens up new possibilities."
From hoof buffers to a global presence
In its early days, Continental produced parts made of soft rubber, such as hoof buffers for horses. Its portfolio quickly grew to include more than 60,000 items, from the initial hoof guards and hard rubber parts for various applications to rubberised fabrics for aeroplanes, airships and hot air balloons. It produced the first Continental pneumatic bicycle tyre in 1892 and treaded pneumatic car tyre in 1904.
Today, Continental employs around 193,000 people at more than 560 locations around the world. Ariane Reinhart comments that the Continental team in 2021 is "more international and diverse than ever before," thus setting "a standard here that extends beyond our industry."
Past success a foundation for future success
Taking stock of Continental at 150 years of age, Nikolai Setzer states that the company is "one of the world's most important pioneers of modern and sustainable mobility concepts in large-scale production." He shares that Continental's future strategy is "geared toward consolidating and expanding this position" and, to this end, will focus on safe, connected and convenient mobility.
"This future hinges on certain technologies, and hardly anyone has as much experience in this area as we do," elaborates Setzer. "Our success in the past is the foundation for our success in the future. The main driving force behind this is passion. For 150 years, our heart has been beating for mobility – and it will continue to do so for the next 150 years."
The COVID-19 pandemic has cast a shadow over Continental's plans to mark its milestone birthday, and the company isn't holding a traditional celebration this year. Should the pandemic situation allow, it will hold an event in summer 2022.
One means of highlighting the anniversary, however, has been the production of a book, titled 150 Years of Continental. Produced by company historian Professor Paul Erker and Continental archivist Dr Nils Fehlhaber, this is available from book retailers from today.