Tyres to shoes: Hankook collaborating with Yase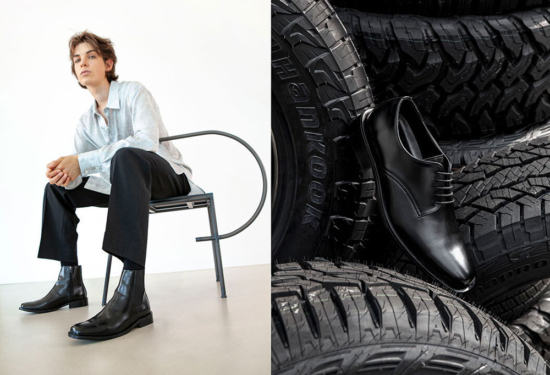 Hankook Tire is collaborating with Korean footwear brand Yase to launch a range of eco-friendly shoes made using recycled tyres. This 'Zero – Leave Nothing Behind' project offers those still too young to drive the opportunity to get to know Hankook Tire – the tyre maker expects the products will "resonate with customers who are early adopters and are conscious about the environment."
The collaboration has initially resulted in five products – four dress shoes and one comfort insole. The dress shoes line-up is composed of Chelsea boots, square toe Chelsea boots, Derby shoes and square toe Derby shoes. These are sold online in Korea. Hankook Tire plans to continue its collaboration with Yase to additionally launch a range of running shoes in October.
Green comfort
"We are happy to announce the collaboration which leads to mutually inspired progressive innovation for both companies," states Jimmy Kwon, vice-president of Hankook Tire's Brand Lab. "It's thrilling that we can help customers choose footwear that will contribute to making the world a greener place. It's also great to see our tyres that have reached the end of their lives turning into outsoles of footwear to take people to where they want with much comfort like they did on vehicles. Shoes made of our old tyres will not only make a positive social impact but also will be hard-wearing and robust as our tyres are developed with high quality materials and cutting-edge technologies."
This is not the first occasion that Hankook Tire has presented footwear products through a cross-industry collaboration. It worked with outsole company Vibram in 2015 to create concept tyres as well as shoes.