Michelin to make tyres containing recycled plastic by 2024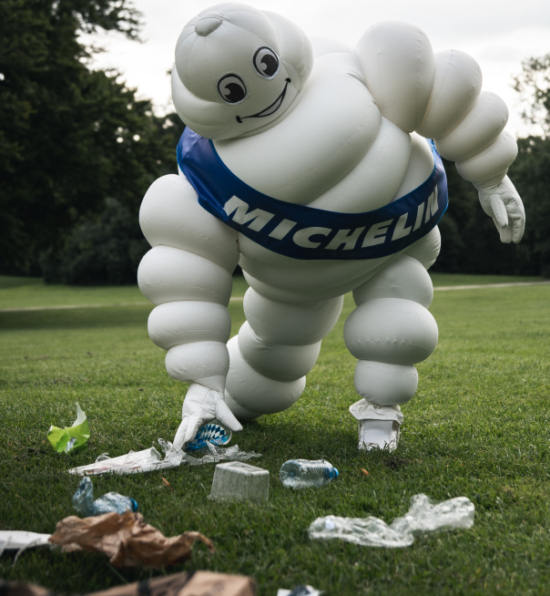 Germany's IAA motor show moves to Munich this year and, rebranded as IAA Mobility 2021, is the country's first major international event since the easing of lockdown restrictions. It begins on 7 September and has attracted more than 1,000 exhibitors and speakers. Michelin will be there, and during IAA Mobility intends to highlight plans to make its tyres as sustainable as possible. The tyre maker's efforts will include six Michelin teams roaming through downtown Munich during the event, encouraging people to recycle plastic waste.
The teams, made up of German Michelin employees from across the business, will join Bibendum – the Michelin Man – in raising awareness that today's discarded container will become a valuable resource for tomorrow's tyres.
As early as 2024, the first Michelin tyres containing recycled yogurt cups and PET bottles will hit the road, with the potential for around four billion PET bottles to be recycled every year as raw material for tyres. The teams at the IAA are aiming to collect enough plastic for the first 100 tyres during the event.
"In one tyre, we can process up to 143 yogurt cups and around 12.5 PET bottles with the high-tech recycling processes. We want to address society's plastic problem and offer solutions," says Anish K. Taneja, chief executive officer of Michelin Europe North.
Michelin's recycling journey
Visitors to the Michelin booth on Munich's Königsplatz can also find out about the rest of the recycling journey. The Michelin REGEN'Lab explains the recycling processes and demonstrates how raw materials for new tyres are obtained from wood, PET plastic or packaging waste.
The plan at Michelin is to manufacture tyres with 40 per cent sustainable materials, such as natural rubber or sunflower oil, by 2030, and increase this proportion to 100 per cent by 2050.
Michelin will also exhibit its vision of the future of recycled tyres at IAA Mobility 2021: the Michelin Vision Concept. This is made of 100 per cent recyclable sustainable material, 3D-printed and puncture resistant. Visitors to the event will also encounter an electric vehicle running on prototype Michelin Uptis tyres, providing a foretaste of the tyres due to go into production in 2024.