India: Apollo Tyres enters LCV cross-ply market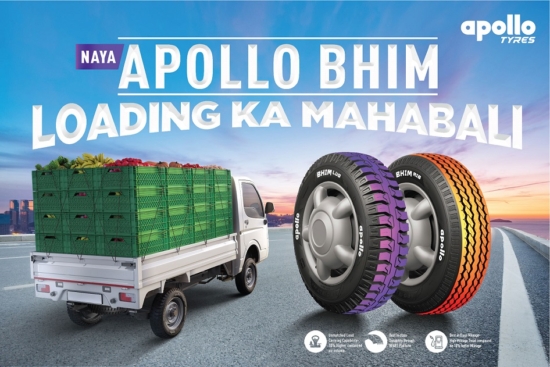 Although radial tyres are increasing their share of India's light commercial vehicle sector, Apollo Tyres points out that around 165,000 cross-ply/bias light commercial tyres are sold throughout India every month. The tyre maker states it is "looking to get a share of this market" and has thus introduced a new cross-ply range, Apollo Bhim. It is offering two SKUs and says these will cater to nearly 80 per cent of the market in this segment.
"We have been eyeing this growing category of small commercial vehicle tyres for some time," comments Satish Sharma, president of Apollo Tyres' Asia Pacific, Middle East & Africa (APMEA) region. Sharma adds that the Apollo Tyres Global R&D Centre, Asia, which designed and developed the Bhim range, based its work upon feedback from Apollo's marketing, customer service and R&D teams as well as end consumers. "Considering the performance of these tyres in our internal benchmarking and extensive testing in real world conditions, we are confident of it being a runaway success."
According to Apollo Tyres, Bhim provides ten per cent better mileage than other tyres in its segment, as well as "unmatched load carrying capability" and "best in class durability." Two patterns are available: Bhim Rib, which is designed with an emphasis on steerability, and Bhim Lug, developed for optimal traction and uniform wear.