Freddie Hunt takes wheel of GT Radial #97 in Fun Cup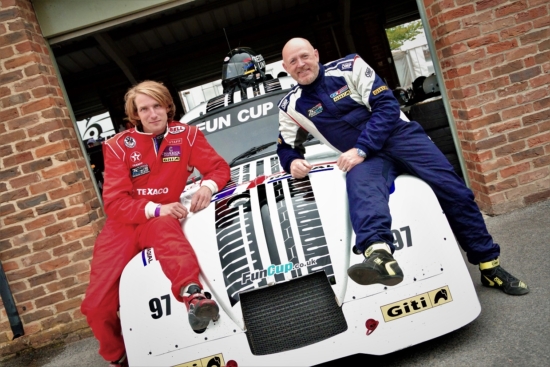 Freddie Hunt, professional racing driver and son of Formula One legend James Hunt, is the latest big name to compete in the GT Radial car number 97 in the 2021 Fun Cup Endurance Championship. He follows Isle of Man TT legend John McGuiness and Steve Peat, multiple World and British Downhill Mountain Bike Champion in taking the seat in this year's series. Racing at Croft with Ellis Hadley, senior test engineer at Giti Tire, the team finished a respectable 10th place having started 17th on the grid for the four-hour endurance race.
Speaking after the event, Hunt said: "It was a fantastic experience which I thoroughly enjoyed, the cars are so much fun to drive! They are well balanced and with the absence of all driver aids one can feel every tiny detail of the track making it a very intimate experience, the racing was great.
"And I was most impressed by the consistency of the Giti GTR2 tyres, over a four-hour race they barely dropped off at all. It makes it a lot more fun when one doesn't have to worry about pushing the tyres too hard and losing performance."
Ellis Hadley added: "It's an honour to race with these sporting legends who are more than happy to pose for photos, sign autographs, chat to other drivers and spectators and really bring a special atmosphere to the whole paddock area.
"But of course it has another benefit too, Freddie, John and Steve have huge social media followings and to have them messaging about GT Radial really pushes the brand, having their association with it is a fantastic message."
Giti Tire remains Official Tyre Partner of the Fun Cup Endurance Championship which has nine races scheduled for 2021, visiting Silverstone National, Anglesey Coastal, Oulton Park International and Donington Park circuits.
All cars in the competition run on GitiCompete GTR2 tyres which form part of a comprehensive range of competition racing tyres which are used in events around the world. The proven technology findings are adapted to further develop its everyday passenger car portfolios.
The Fun Cup Endurance Championship, originally known as the VW Fun Cup, was launched in the UK in 2002 with the clearly defined objective of providing cost-effective, close, exciting racing.
With a grid regularly topping 30, the cars are identical, race designed, single-seaters with a super-strong space frame chassis based on the Volkswagen Beetle. They are powered by an 1800cc, 130 bhp VW/Audi petrol engine with a Sadev sequential gearbox as well as race brakes and fully adjustable suspension.